Spoof art triumphs once again at the 2017 Turnip Prize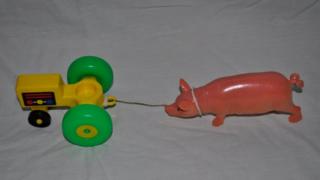 Pulled Pork has been named the best entry in a spoof art award, the Turnip Prize - a not so artistic interpretation of the Turner Prize.
The toy tractor pulling a plastic pig is the work of artist Chris P Bacon.
Organiser Trevor Prideaux said entries which took "the least amount of effort possible to create" were encouraged.
He added the competition, run from a Somerset pub, attracted a "record number of crap entries from around the world".