East Somerset Junction derailment 'caused by track fault'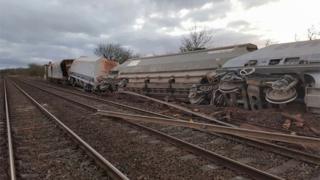 A freight train derailed because of a design fault in a section of replacement track, a report found.
The derailment, between Castle Cary and Frome on 20 March, caused major travel delays and took four days to repair.
A section of track had had a set of points removed and a curved plain-line section of track added, in 2010.
Investigators found the right-hand rail was "insufficiently restrained, allowing it to rotate outwards and become unclipped from the base plates".
The inquiry identified the design of the track was "sub-optimal" and signs of gauge spread [rails moving away from each other] were not identified during inspections of the track by staff from Westbury track maintenance depot.
'Independent inspection'
Among the formal recommendations of the Rail Accident Investigation Board (RAIB) report, it said: "Network Rail should enhance its procedures... [and] appropriate measures should be included to manage the risk where the newly-installed plain line is curved.
"Consideration should be given to limiting the duration of such installations without an independent inspection, permanent design and/or track renewal taking place".
It also recommended that there should be "adequate resources" brought in to allow track maintenance in the Westbury area.
The RAIB also made a learning point, reinforcing the importance of identifying "gauge-spread" on sections of curved track that may be subject to high lateral loads.
A learning point is an issue the RAIB uses to reinforce safety procedures which are not covered by a formal recommendation.
RAIB investigations are carried out in order to improve rail safety to help prevent future accidents or mitigate their consequences, as opposed to establishing blame or liability.