Cancer mum Heidi Loughlin: Drug 'obliterated' tumours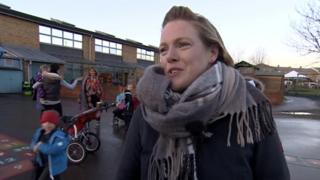 A mother who has a rare form of cancer says her latest scan shows a new drug she is taking has "obliterated" secondary tumours in her lungs.
Heidi Loughlin, 35, from Portishead, near Bristol, was diagnosed with breast cancer in 2015 while pregnant.
She backed a successful campaign to get life-extending drug Kadcyla, which was deemed too expensive, available on the NHS.
However, Ms Loughlin accepts she is still terminally ill "on paper".
Her latest scans show the drug has "worked like a charm" and she has no "new cancer anywhere else".
Ms Loughlin says she still has secondary cancer of the skin and blood vessels and has been told these would not show up on body scans.
Consultant oncologist Jeremy Braybrooke said it was quite rare to see a scan looking completely clear.
"But we do need to continue to monitor and we will repeat scans," said Dr Braybrooke.
"We suspect at some point in the future the cancer will become active again."
'Dare to dream'
Ms Loughlin said the medication "has done a fantastic job" but she realises she "can't be cured".
"I will always have to have chemotherapy.
"It's hard every single day... but I'm so grateful that I've got this this time with my children.
"I'm really chuffed to bits at the position that I'm in, that I can dare to dream I'll be here for a really long time."
The Metropolitan Police officer was diagnosed with inflammatory breast cancer in September 2015 after she noticed a rash on her breast while feeding her baby son Tait.
She was given the option of terminating the pregnancy so she could begin aggressive chemotherapy.
But she decided to keep her baby and begin a less aggressive form of treatment
Ally Louise Smith was born 12 weeks early, weighing just 2lb 5oz, but died days later.
Kadcyla
Kadcyla, which had repeatedly been deemed too expensive, was offered on the NHS in England after a decision in June by NICE (National Institute for Health and Care Excellence), following a confidential deal between the health service and the drug company Roche.
It is a combination of two drugs and is used to treat people with HER2-positive tumours that have spread to other parts of the body and cannot be surgically removed.
The undiscounted cost of Kadcyla had been £90,000 per patient.
Source: NICE