Thousands oppose anti-pigeon spikes in Bristol trees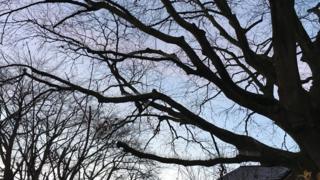 Thousands of people have signed a petition to remove anti-pigeon spikes placed on tree branches to stop birds pooing on cars.
They were put in trees on Pembroke Road, Clifton, by the management company of nearby Bartlett Court flats to protect residents' "expensive cars".
The move was criticised by wildlife experts and branded "idiotic".
The petition, signed by over 26,000 people, also calls for owners to find other methods to protect their cars.
Hillcrest Estate Management said it needed to protect vehicles at the "prestigious" development from roosting pigeons.
Bristol City Council said there is nothing it can do as the spikes are on private property.
'Embarrassed and outraged'
The Care2 petition states: "The sense of entitlement these residents have shown by altering the ecosystem just to protect their Audis and BMWs is egregious.
"There are alternative solutions for protecting cars from bird droppings that don't involve domination over nature and wildlife."
A number of comments have also been left on the petition.
Daisy W wrote: "I live in Clifton and I am embarrassed and outraged by this. Who do some people think they are? This planet is the birds' too and the trees are their home."
The management company said it had tried a number of measures to deter the pigeons, including fake birds and noise deterrents, but had little success and installed the spikes in 2014.
In September, Stevenage Borough Council, in Hertfordshire, put spikes on a tree in the town centre to prevent "mess and disease".