South Western Ambulance apology after pensioner's two-hour wait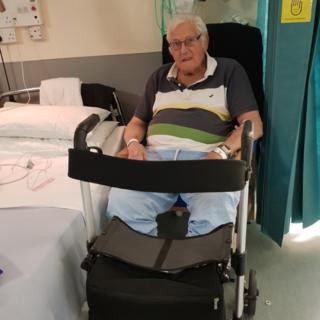 An ambulance service has apologised after a disabled 82-year-old man had to wait nearly two hours in the cold after a fall.
John Carrott, of Hutton, Somerset, fell near his front door as his legs gave way, early on Boxing Day.
He was kept warm by neighbours and his carer, but they were told by call handlers not to move him.
South Western Ambulance apologised for the delay, adding its resources had been "stretched to the limit".
Under new guidelines introduced in July by the NHS, Mr Carrott was assessed as a category three patient - an urgent case, but not life-threatening - with the ambulance arriving within its target response time of two hours.
'Freezing conditions'
"We clinically triage those patients most in need of a double-crewed ambulance who are in a life-threatening, time-critical situation," a South Western Ambulance Service spokesman said.
"Sometimes we don't always get to patients as quickly as we'd like."
Mr Carrott, who has mobility problems and walks with a frame, was taken to hospital in Bristol for treatment to an injured foot.
He had returned to his home in Hutton after a family event in Bridgwater and managed to call for help by activating an care alarm on his wrist.
His son, Ian, said: "His carer and neighbour came out very quickly and helped him.
"The big issue is it took two hours or thereabouts for the ambulance to arrive in freezing conditions.
"He's an 82-year-old registered disabled man, he shouldn't have had had to wait so long. It could have killed him."