Musgrove Park Hospital accepts air ambulance at night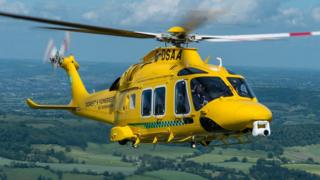 Dorset and Somerset's air ambulance is now able to land at a Somerset hospital at night for the first time.
The emergency helicopter was previously only allowed to land at Taunton's Musgrove Park Hospital in daylight but can now land until 02:00.
It is estimated there will be between one and three flights a month arriving at the site between 20:00 and 02:00.
The hospital said, at a consultation meeting last month, some residents had raised concerns about noise.
A spokesman said the new aircraft, which entered service in June, could land at a steeper angle so would disturb fewer residents and its engine would be stopped as soon as it touched down to minimise noise.
'Better than London'
Air ambulance chief executive Bill Sivewright said: "This is about patients' lives, and if upsetting someone's sleep at night means someone's life is saved then I just feel that's something we've got to do.
"But I would like to say thank you for the tolerance they [residents] have shown to date."
The air ambulance is already able to land during the hours of darkness at Bristol, Southampton, Plymouth, Swansea, Dorchester, Bournemouth and Exeter but had previously been unable to land at night at Somerset's hospitals.
Chief pilot Mario Caretta said: "We are very well provisioned in the local area - better than other places. We're better off than London because we've got so many more hospitals here where we can land at night."
The Dorset & Somerset Air Ambulance currently operates for 19 hours a day, between 07:00 and 02:00.
A&E chief clinician Dr James Gagg said there were no plans to extend landing times to 24 hours a day but added: "Why should the time of day affect how you can have critical care treatment?"