Elderly woman has 22-hour hospital wait at Weston General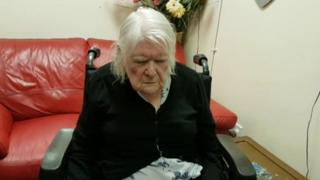 An 87-year-old woman spent 22 hours waiting to be admitted to a ward at a Somerset hospital which has closed its A&E department overnight.
Esme Thomas was taken to Weston General hospital with breathing problems on New Year's Day, but was not given a hospital bed until the next day.
The hospital apologised "to all our patients who have had to spend much longer in A&E than normal".
It said it is currently dealing with "much higher volumes" of ill patients.
Weston General is among a number of hospitals operating on Opel 4 status because of high demand.
Mrs Thomas's son Paul said his mother, who has dementia and has sight problems, found the situation "extremely distressing".
Mrs Thomas was discharged on Thursday and is now back at her nursing home.
Mr Thomas said: "Even when she was discharged yesterday they sent no paperwork for staff at the home."
In a statement, Weston General Hospital said: "Our senior staff have been talking to patients in the hospital to reassure them that we're doing all that we can.
"We'd like to thank the public for their patience during this difficult time and to our staff who have been going above and beyond coping in extreme circumstances."
The hospital, which serves more than 200,000 people, has been closed between 22:00 and 08:00 GMT since July because it could not guarantee safe levels of staffing overnight.
Mrs Thomas was treated at Weston because she arrived during the day, but after 22:00 some 15 patients a night are moved to hospitals in Bristol or Taunton.
Dr Stuart Walker of Taunton and Somerset NHS Trust said the closure is "putting pressure on other hospitals and ambulance services" particularly during the current rising demand.