Plans for 700 extra homes would 'decimate' Backwell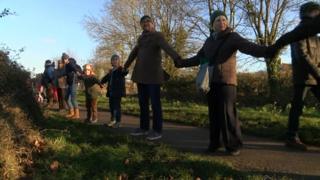 Protesters say plans for 700 new homes and a dual carriageway in North Somerset would "decimate" the character of their village.
The Grove Farm development to the west of Backwell would also include a new link road and Metrobus route.
It is part of the Joint Spatial Plan which aims to address the national housing crisis and a shortage of accommodation in Bristol.
North Somerset Council says its hands are tied by central Government.
On Sunday about 400 villagers linked hands to form a circle around Backwell lake to highlight what they say is a "huge and imminent threat" to the village's future.
Organiser Lorraine Hopkinson-Parker urged residents to oppose the plans by the deadline on Wednesday.
She said: "This will increase the size of the village by 50% and see a four-lane link road and bus route running next to our lake and the destruction of the green belt.
"If this goes ahead Backwell will be decimated. It will no longer be a village and we haven't got the facilities and services to support this amount of new homes."
The plans include a new road linking the A370 to Nailsea and Backwell station, a Metrobus route from Bristol to Nailsea and possibly a new primary school.
Coun Elfan Ap Rees, deputy leader of North Somerset Council, said: "We are not happy about it and we are trying to negotiate around the edges and create new villages rather than add to existing ones but we do have to provide these homes.
"We are stuck between an area of outstanding beauty, the green belt and flood-land and we need to provide 11,000 homes in North Somerset."
Developer Taylor Wimpey said: "The planning application will be in-line with proposals set out in the draft West of England Spatial Plan.
"Taylor Wimpey will continue to support North Somerset Council in its efforts to take a strategic approach to supporting the local area and will work collaboratively to make best use of the opportunities that arise to improve transport and community infrastructure."