Children's services in Somerset require improvement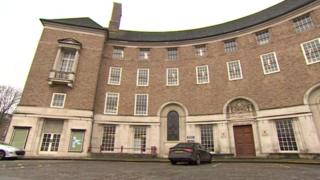 Children's services in Somerset have improved and are no longer "inadequate", inspectors have said.
The Somerset County Council department was rated inadequate in 2013 and 2015.
In their latest report, Ofsted inspectors said services had got better but still "require improvement to be good" in all but one area.
The inspection, carried out in November, found services for children needing help and protection need to be improved.
Leadership, management and governance also needs improving, the report found.
Inspectors also said too many children in foster care experience moves between placements before they find the right home.
However, inspectors singled out adoption services as being "good".
'Committed to improving'
Council leader David Fothergill said he was "delighted" to have taken a "big step forward".
"We have the ambition for Somerset to be rated by Ofsted as not just 'good' but ultimately to be rated as 'outstanding'."
Cabinet member for children and families, Frances Nicholson, said: "There is a huge amount of comment and constructive criticism in this report and we will spend time going through it and getting things right.
"We are committed to improving our children's services and we have the right staff and the right leaders to do exactly that."