Taunton Flower Show to stay at Vivary Park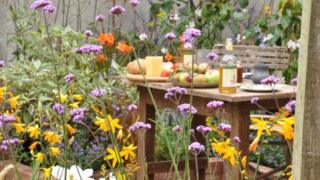 The organisers of a flower show have agreed to pay a "five-figure" sum to the council in order for it to stay at its historic home.
Taunton Flower Show has been held in Vivary Park since 1851 and until now the council had not made a charge.
Last year, Taunton Deane Borough Council said it needed to help pay for the "wear and tear" the event caused.
Ticket prices will be increased to cover the cost.
The show will also stay in Vivary Park for at least two years.
'Modern world'
Chairman Adrian Prior-Sankey said the flower show's future beyond that was still uncertain if proposals to merge Taunton Dean Council with West Somerset Council go ahead.
"No-one sadly can say something will stay the same forever; it's unfortunate but that's the modern world."
Taunton Deane Borough Council said it recognised the importance of the flower show.
It added the decision to charge for the event was made as part of the budget setting process.