Breeders 'forced' to cull Exmoor ponies in passport row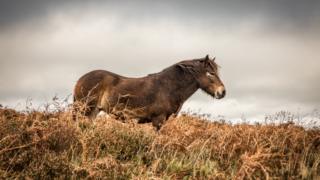 Breeders claim they have been forced to cull "dozens" of Exmoor ponies because of delays obtaining paperwork proving their pedigree.
The Exmoor pony is listed as endangered by the Rare Breed Survival Trust and needs a "passport" to be sold.
Without it the ponies cannot be sold for their full value and some breeders say they cannot afford to keep them.
The Exmoor Pony Society, which oversees the process, said the vast majority of herd owners do not encounter delays.
Breeder Rex Milton grazes about 40 breeding mares and says the pony's value of "lies in its registration".
He claims he has put down "dozens" of animals after "delays of several months, and in some cases, years", adding it is "too expensive to keep them while waiting for the results".
He said he did not breed the ponies for profit but to help keep the breed going.
Another breeder, who did not want to be named, said they have been unable to sell ponies because they have not received the passports.
David Wallace from the Exmoor Pony Society said no-one wants to hear of animals being culled, but said he would not comment on individual cases.
"We continue to look at improving procedures... we continue as a society to ask breeders to breed responsibly.
"We ask for the best [DNA} sampling to be taken at the time the foals are inspected so we can turn the passports around.
"You're hearing the other end of the spectrum - there are many passports which are turned round within weeks of the foals being inspected."