Runners turn out for cancelled Bath Half Marathon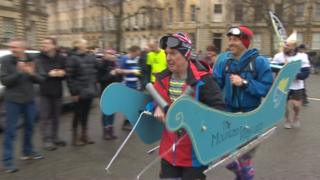 About 50 people turned out to run the Bath Half Marathon course, despite the race being cancelled due to the snow.
Organisers called off the event on Friday because they could not "guarantee safety underfoot" because of the condition of roads and pavements.
Up to 15,000 runners had registered for the race and some took to social media to organise the unofficial Bath Half.
One woman said cancelling had been the right decision but she wanted to run because she was "all geared up" for it.
The Bath Half has been held every year since 1982.
Race director Andrew Taylor said the decision to cancel it had not been "made lightly".
"We feel really sorry for all the runners that have trained and fundraised for their charities."
Dom Moorhouse, from the charity Mountain Way, said he was "disappointed" the race had been cancelled but was running a "safe variant" of the course.
"I totally understood the dilemma of the race organisers," he said.
"It was the right call but we wanted to honour our sponsors and continue with the challenge of completing the Bath Half."
Organisers have confirmed the event will not be postponed to a future date but all entrants will be offered a full refund on their race entry.