Missing cockatiel 'reunited with wrong owner'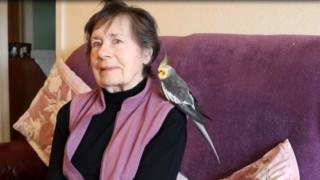 A pet owner whose beloved cockatiel went missing fears she has been reunited with a "completely different" bird.
Freda Ireland said Poppy, who escaped her home in Westbury, Wiltshire, last month, was fond of swearing and had a habit of pecking her.
But the bird returned to her last week is more "gentle" and loves to sing Twinkle Twinkle Little Star, she said.
She is worried another owner may be missing their pet.
An appeal was launched after Poppy "shot straight past" Freda Ireland through her front door in the Castle View area on 18 February.
'Quite a character'
Four weeks later, Ms Ireland was told a cockatiel had been brought in to a local vet.
"I thought it's got to be my bird," she said.
It was only after she brought the cockatiel home that she realised it may not be Poppy.
"Poppy was quite a character, he could say his name and he did swear a bit," she said.
"He would say 'you old bugger' and used to attack me but this one is a gentle little bird, it keeps saying 'cheese' and sings."
Her worries heightened were when she learned another cockatiel had been found dead at a nearby football pitch.
She said she would like to keep the bird but is worried "some old lady or gent" will be missing their companion.
"He just loves to be by me, he clings on to my jacket and seems to like company," she added.
"Whoever had him before must have had a dog because he make lots of whistling noises, like he's whistling for the dog to come.
"I would keep him but I also hope the owner hears about this and lets me know."