Missing 'Twinkle Twinkle' cockatiel back with right owner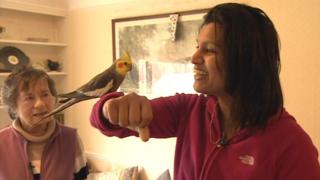 A nursery rhyme-singing cockatiel which was reunited with the wrong person has been returned to its rightful owner.
Freda Ireland, from Westbury in Wiltshire, thought Poppy had come home to roost after escaping in March.
But when a gentle bird that sang Twinkle Twinkle Little Star was returned to her, she soon suspected it was not her swearing, destructive pet.
Dhathri Bollu, 44 miles (70km) away in Weston-super-Mare, recognised her bird after seeing the story on the BBC.
'Over the moon'
Ms Ireland lost Poppy after it flew out of the door. Four weeks later, a bird matching Poppy's description was found and returned to her.
But it was only after she got the bird home she realised it was not Poppy - who used to say "you old bugger" and attack her.
Following an appeal to find the owner, Ms Bollu recognised the singing, whistling bird as her missing cockatiel, Krishnudu.
"The moment I saw Freda's interview on the BBC, I was just crying out loud. I'm absolutely over the moon," she said.
"It snowed after he flew away and we thought he'd died, it's quite unbelievable that a cockatiel could fly this far and amazing he is still alive."
Ms Ireland said Krishnudu had "really taken" to her and had to a "certain extent" taken the place of Poppy.
"Although I've only had him a little while I shall miss him," she said.
"But Poppy liked chewing the wallpaper off the walls, so I've still got something left of my bird - with the damage he left behind."