M5 Willow Man sculpture's future uncertain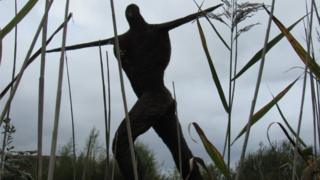 The future of the giant Willow Man sculpture near the M5 in Somerset is in doubt after its creator failed to raise the funds necessary to rebuild it.
The artwork, near Bridgwater, is made from locally grown willow woven around a steel frame and is in urgent need of repair.
A crowdfunding appeal set up by artist Serena de la Hey only raised £16,000 of the £75,000 target before it ended.
Ms de la Hey said she now planned to explore other fundraising options.
She said she would spend the next few weeks going back to the drawing board because the sculpture had "become such a symbol of the West Country and such a well-known piece of public art."
The 40-foot (12 metre) artwork, known as the "Angel of the South" and commissioned by South West Arts in 2000, was originally meant to last three years.
It was burned down by vandals when it was built in 2001 but was re-built the same year.
The sculpture and surrounding moat was last repaired in 2015 at a cost of £9,000. An earlier refurbishment in 2006 cost £21,000.
Ms de la Hey said it was financially impractical to keep making small repairs to the Willow Man, and if it continued to deteriorate it would be dismantled.