Bath care home workers strike over pay and shift changes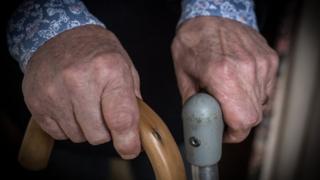 Care home workers are to strike in protest at pay cuts and plans to change their shifts.
About 120 staff employed by Sirona Care and Health in Bath and other parts of north-east Somerset plan to walk out for two hours every other day throughout June from Wednesday.
The union Unison said the company wants workers to accept an unpaid 30-minute break or work extra hours.
Sirona, a not-for-profit organisation, said it had to meet a funding gap.
Unison believes the move will cost low-paid workers up to £1,200 a year.
A spokesperson said workers were taking action "with a heavy heart" but could not live on a reduced income.
Bernadette Yea, a care worker involved in the dispute, said: "We need to take a stand now because otherwise the gap will grow and other employers across the country will think this is acceptable practice.
"Having a rest break is really important, but if the changes go through, the level of care will drop."
'Open to proposals'
Sirona chief executive Janet Rowse said the company had already reduced management and overhead costs in a bid to meet the funding gap.
"We are sorry and disappointed that we were unable to reach agreement with Unison over the issue and we do want to continue to have conversations to find a way forward.
"Having unpaid breaks will ensure consistency with elsewhere in the sector and within Sirona, and our pay and benefit package is competitive including sickness and holiday pay as well as pensions."
Sirona is publicly funded by the NHS and, in some areas, local authorities.
Ms Rowse said Bath and North East Somerset Council has provided additional funding for new developments but said it did not solve the underlying gap in finances.