M5 closed in Somerset as heat hits resurfacing roadworks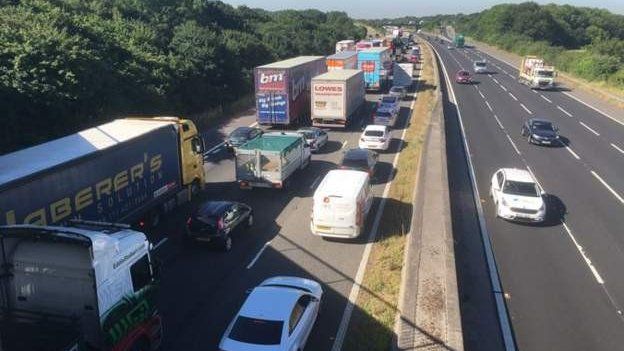 A motorway was closed for hours after botched overnight resurfacing work went wrong because of the hot weather.
The M5 was closed between Weston-super-Mare and Burnham-on-Sea during the morning rush hour, leading to long delays for commuters.
Highways England said tarmac on the road had not set because of the high temperatures.
Andrew Page-Dove apologised saying "there are no excuses, the incident on the M5 should not have happened".
"A full investigation will happen to ensure that this never happens again," Mr Page-Dove added.
The closure caused chaos on many local roads close to the busy motorway with reports of congestion on routes towards Bristol.
One commuter told the BBC that it took him three hours to travel from Bristol to Taunton - a journey that should take about 50 minutes.
A number of other commuters posted on Twitter to express their frustration.
Oliver Giltrow said: "What a shambles from @HighwaysSWEST."
Jason Conolly described Weston-super-Mare as being "at a standstill" meaning "people can't get out to go to work".
And an angry Sally Wright complained: "Brilliant idea lets keep it closed at rush hour!!! Fuming!!"
@HighwaysEngland have resurfaced over 200 miles of road since April this year. There are no excuses, the incident on the #M5 should not have happened. We are human and like everyone else we occasionally get things wrong. I can only apologise to all those delayed by today's events

— Regional Director | Highways England SW (@h1wayman) June 26, 2018
In a statement, Highways England said essential surfacing work was delayed by "heavy traffic flows" and delays in supplies reaching the site.
It added that despite reducing the amount of work to be undertaken "a section of new surfacing had not cooled down enough" to reopen the road to traffic by 06:00 BST, "partly due to early morning temperatures rising".
"We sincerely apology to everyone who was involved in the disruption this morning and assure them we are doing everything we can to make sure a delay like this does not happen again," a spokesman said.
"There was clearly an error of judgement on our part and we are very disappointed that this resulted in delays for our customers."
Related Internet Links
The BBC is not responsible for the content of external sites.