Bulmers art theft trial: Detective calls police 'incompetent'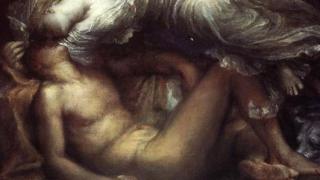 A retired detective has dismissed police investigating the theft of artworks from the Bulmers cider family as "incompetent".
Former detective chief inspector Charles Hill described the trial of 11 men as "completely wrong".
He said police had come up with a case based on "conspiracy theories" to hide their own mistakes.
Fifteen paintings were stolen along with £1m of antique jewellery from the mansion in Bruton, Somerset, in 2009.
The couple's housesitter, Deborah Barnjum, was hooded and tied to a banister by balaclava-clad burglars who entered the sprawling property, known as the Pavilions.
Mr Hill, who worked with the Metropolitan Police for 20 years, told Bristol Crown Court he had spoken to police and prosecutors before giving evidence in the case.
"I said conspiracy theories, such as the one that has been brought against these defendants, are wrong," he said.
"The focus of this case should be on the assault and torture of the lady - not some insurance fraud."
Mr Hill retired from Scotland Yard in 1997 and became a freelance art recovery specialist. He is credited with helping to recover Edvard Munch's The Scream after it was stolen in 1994.
He was contacted by Mr Bulmer after the robbery.
Mr Bulmer wanted his help to recover the stolen artwork.
Mr Hill was unable to take on the case, but was contacted by a man named Jonathan Rees, who claimed to know former members of the SAS who could recover the paintings.
Rees is now charged with insurance fraud and perverting the course of justice.
Mr Hill said he believed Rees, who he likened to Winston Wolfe from the film Pulp Fiction - a "Mr Fixer kind of guy", was properly acting as an "agent" of Mr Bulmer.
"I think the charges he [Jonathan Rees] faces are both outrageous and wrong.
"There are good officers in Avon and Somerset Police. I will tell you straight that the block of them, particularly at the higher level, are incompetent and the trial here is their attempt to make amends."
The trial continues.
The defendants:
Liam Judge, 42, of Foley Close, Tuffley in Gloucestershire, denies conspiracy to burgle
Matthew Evans, 41, of Coral Close, Tuffley in Gloucestershire, denies conspiracy to burgle
Mark Regan, 46, of no fixed address, denies conspiracy to receive stolen goods (paintings)
Skinder Ali, 39, of no fixed address, denies conspiracy to burgle and conspiracy to receive stolen goods (paintings)
Donald Maliska, 63, of Abbey Place, Priory Road, Dartford, denies conspiracy to receive stolen goods (paintings) and conspiracy to defraud
Jonathan Rees, 62, of Village Close, Weybridge, Surrey, denies conspiracy to handle stolen goods (paintings), conspiracy to defraud and perverting the course of justice
David Price, 53, of Virginia Court, London, denies conspiracy to receive stolen goods (paintings) and conspiracy to defraud
Ike Obiamwie, 55, of Perryn Road, Ealing, London, denies conspiracy to receive stolen goods (paintings) and conspiracy to defraud
Nigel Blackburn, 60, of Frederick Street, Hockley, Birmingham, denies entering into or becoming concerned in a money laundering arrangement
Azhar Mir, 65, of Halstead Grove, Solihull, denies entering into or becoming concerned in a money laundering arrangement
Thomas Lynch, 43, of St Benedict's Road, Small Heath, Birmingham, denies conspiracy to receive stolen goods (paintings)