Somerset Rivers Authority spends £5m on flood prevention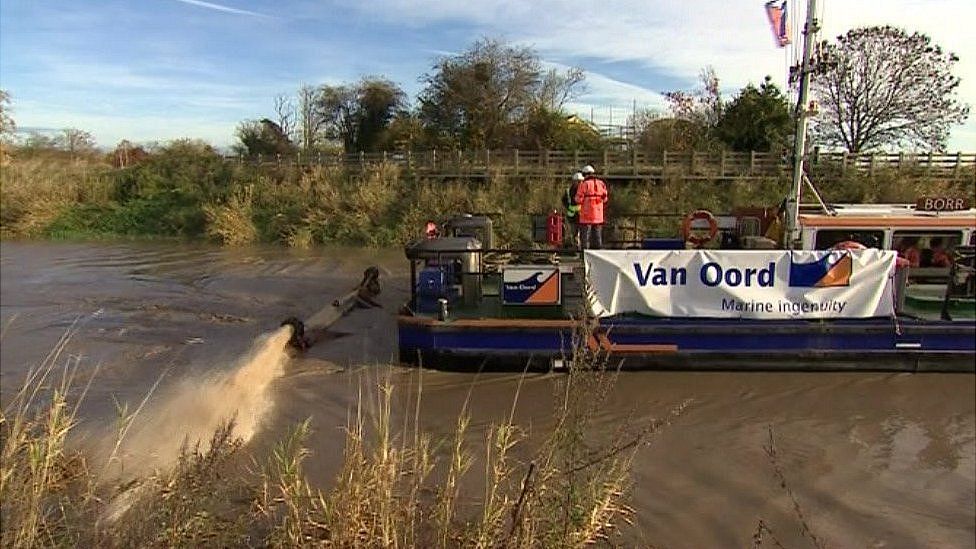 Flood prevention work for the past year is set to cost £5m, the Somerset Rivers Authority (SRA) has said.
About 12% of its budget went on dredging 5km of the River Parrett and removing silt and other maintenance work over 40km of waterways.
SRA chairman John Osman said: "We're trialling water-injection dredging which is a more cost-effective method of dredging."
The group was set up following the heavy flooding on the Somerset Levels which devastated farms, businesses and homes.
Calls had been made by farmers and residents who had blamed the lack of dredging along the rivers Tone and Parrett, which they said made the flooding worse.
In 2014, the Environment Agency spent £6m on dredging 8km of the two rivers.
Since then, the SRA has taken on the dredging maintenance work as well as dredging new stretches of rivers and waterways.
In December 2017 work to remove silt took place along the River Parrett downstream from Burrowbridge.
"We're removed 32,000 cubic metres of silt - that's more than what we did in the pioneer dredging immediately after the flooding," said Mr Osman.
"We're getting the silt out of the system which means that if we have that extreme weather again the river system will be able to cope better and the land won't flood like it did before."
The authority has also spent £300,000 on a flood prevention scheme in Cannington and nearly £100,000 on improvement works to local pumping stations.
The group is also continuing to prepare the planning application for the £100m Bridgwater Tidal Barrier, which is expected to be submitted next summer.
The aim is for the barrier to be operational by 2024.
Related Internet Links
The BBC is not responsible for the content of external sites.