A303 dualling gets £100k to avoid project delays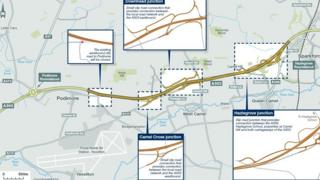 Somerset councillors are calling for Highways England to fully reimburse the planning costs of a major trunk road development in the county.
The A303 between Sparkford and Ilchester is set to be widened with new junctions built in.
South Somerset District Council has agreed to pay up to £100,000 to avoid delays, as the money for the project needs to be spent by 2022.
Highways England said it is considering the request to pay the full amount.
It intends to start the work in March 2020, depending on planning approval, and has ring-fenced up to £250m for the project.
'Complete joke'
During a South Somerset executive committee meeting on Thursday, council officer Jan Gamon said Highways England would only offer £60,000 to help cover costs, the Local Democracy Reporting Service (LDRS) reported.
Of this, South Somerset District Council would get £15,000, which councillor Harry Hobhouse branded "a complete joke".
Ms Gamon added the time spent on this project would also slow down its other work unless more staff were bought in.
Councillor Mike Lewis, who represents Camelot ward where much of the work will be done, supported the funding but called for Highways England to pay the full costs.
He said: "The £100,000 will depend on Highways England not fully supporting the work that is necessary.
"It should be their responsibility to fully fund this, but we do not wish to hold up the process by refusing to fully fund this."
'No decision made'
He was supported by council leader Ric Pallister who added lobbying would continue to get the full costs back.
The aim is for Somerset County and South Somerset council officers to get the planning application ready for the end of 2019.
As it is a major scheme, the final decision will be made by the transport secretary by the end of 2019.
A Highways England spokesman said it "received a request from Somerset County Council, and South Somerset District Council - members of its Stakeholder Panel - for a contribution to costs incurred undertaking tasks beyond their statutory duties".
"We are currently considering this request and as yet no decision has been made," it added.
He added that any funding would be subject to an internal approvals process.