Former police boss unlawfully followed on train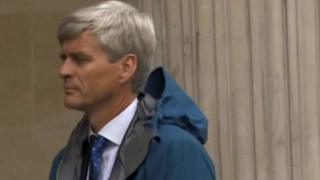 A former police boss has been awarded damages after being unlawfully followed by a British Transport Police officer.
Last year, ex-Ch Supt Gary Davies was cleared of assaulting three women by touching them in busy train carriages.
Before his arrest he was followed on to a train by an officer who had failed to get authorisation for the surveillance, according to the tribunal judgement.
The tribunal found breached rules and Mr Davies has been awarded almost £47,000 in damages.
The Investigatory Powers Tribunal, which was held after Mr Davies made 14 complaints to police, found he had been subject to unlawful surveillance which included having photographs taken of him.
It said because the surveillance operation was pre-planned a Regulation of Investigatory Powers Act (RIPA) authorisation should have been sought.
'Disturbing'
Mr Davies said he was "grateful" for the tribunal's deliberation and said British Transport Police (BTP) had "a lot of changes to make".
"If I had not had the experience of being a former senior detective I would not have been able to prove my innocence or take on an organisation like BTP. That is worrying for ordinary people," he added.
The tribunal found police showed a "disturbing lack of familiarity" of requirements.
BTP Deputy Chief Constable Adrian Hanstock said the force accepted the tribunal's findings.
He added one BTP officer involved had been issued with a gross incompetency notice and a second officer was issued with a notice regarding his unsatisfactory performance.
Mr Davies, from Taunton in Somerset, left Avon and Somerset Police in 2012. During his career he had served as a chief superintendant.
Between 2015 and 2016 he was alleged to have assaulted three women while travelling between Taunton and Bristol, but a jury at Bristol Crown Court found him not guilty of the charges in June last year.