Sewage fears after boy falls ill following River Avon swim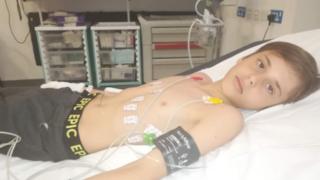 A 12-year-old boy was hospitalised after swimming in a river where fears have been raised about raw sewage in the water.
Rio Smith fell ill on Monday after playing in the River Avon at Saltford near Bath on Saturday.
He spent three nights in Bristol Children's Hospital after his condition deteriorated.
His mother Shelley has warned parents not to let their children swim in the river due to fears over raw sewage.
She said she took Rio to her local A&E after he fell ill at school on Monday morning.
"He was waxy looking, blue in the face and he couldn't stand up," she added.
Ms Smith, from Warmley, South Gloucestershire, said Rio contracted gastroenteritis and had "two lots of drips of antibiotics".
She said she was worried other children could fall ill after swimming in the river.
"[They] could die from something they pick up, because you don't know what's in the water."
Saltford Weir and a nearby picnic area are popular swimming locations in the area.
The Environment Agency has said it does not test water quality there as it is not a designated bathing area.
A spokesman said Saltford Weir is close to a treatment works but discharge runs downstream away from its location.
He added: "There are combined sewer overflows upstream, but we have had no reports that these have surcharged during this period."
'Disgusting'
In 2013, a teenage boy drowned at the weir and warning signs were later put up to deter swimmers.
Local kayaker Phil Smith said: "We've witnessed firsthand sewage coming into the Avon further up the river.
"It was the smell and what was coming out of the pipe, it was disgusting. I definitely wouldn't swim in there now."
Ms Smith said she hoped Rio would be allowed home from hospital on Thursday evening.
She said seven of Rio's friends who also swam in the river fell ill but were not as badly affected.