Dog poo in Clevedon's Marine Lake causes ear infections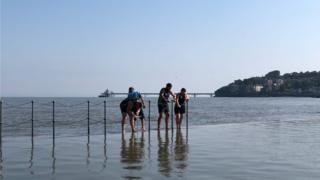 A marine lake in North Somerset is being drained after the discovery of high levels of bacteria from dog poo.
Swimmers are being advised not to use Clevedon Marine Lake until it is drained and refilled by the high tides.
Marine Lake Enthusiasts member Joe Norman said: "The results came back with high levels of E Coli and they're two or three times higher than the levels recommended."
The issue came to light after people had ear infections after taking a dip.
'Unfriendly bacteria'
The draining began earlier on Saturday morning.
"We've got a team to come and open the sluices.
"It's a muscle effort as it's a worm and crank you have to turn 350 times to lift the sluices and they're well encrusted having been underwater for a long time," added Mr Norman.
North Somerset Council's environmental health service manager, Dee Mawn, has also said there is a year-round dog ban at Marine Lake.
She added: "The order is in place for a reason - to reduce the risk of unfriendly bacteria draining into the lake.
"Unfortunately people are ignoring the order and, as much as we would like to think everyone picks up after their dogs, sadly some don't.
"Contact with faecal coliform bacteria is known to cause, among other things, ear infections.
She added they employ a community response officer to patrol the area and anyone caught ignoring the notice would be fined.