High tides leaves family stranded on rocks at Brean Down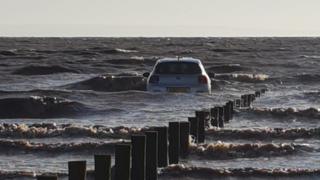 A family of four and their dog have been rescued at Brean Down when they got cut off from the incoming high tides on Saturday evening.
BARB Search and Rescue were called at 19:20 BST on Saturday by the daughter who was in a hire car and the rest of the family got stuck on rocks nearby.
Brean's beach warden, David Furber said the family had been walking along the base of the Down.
The car could not be saved and was submerged by the tide.
"They'd left their car on the beach with a family member - a teenage daughter - and were apparently unaware that that tide comes in so far," added Mr Furber.
Mike Newman from BARB Search and Rescue said that this weekend, the tide was particularly high at 11.8m and rose to the very top of the beach.
He could not estimate the speed of tide but said its speed can catch people out. The Severn Estuary also has the second largest tidal range in the world.
His advice was to check tide times with the local beach wardens to avoid getting caught out.
A spokesman for the Coastguard added: "While we ensured that the person with the car was safe and well and in the care of the police unit on scene, Weston Lifeboats were setting about plucking the rest of the stranded family and their dog from the rocks.
He added that family had been on the beach for quite some time and had become a "little cold" due to the breezy weather.