Bath stadium plans unveiled by Bath Rugby Club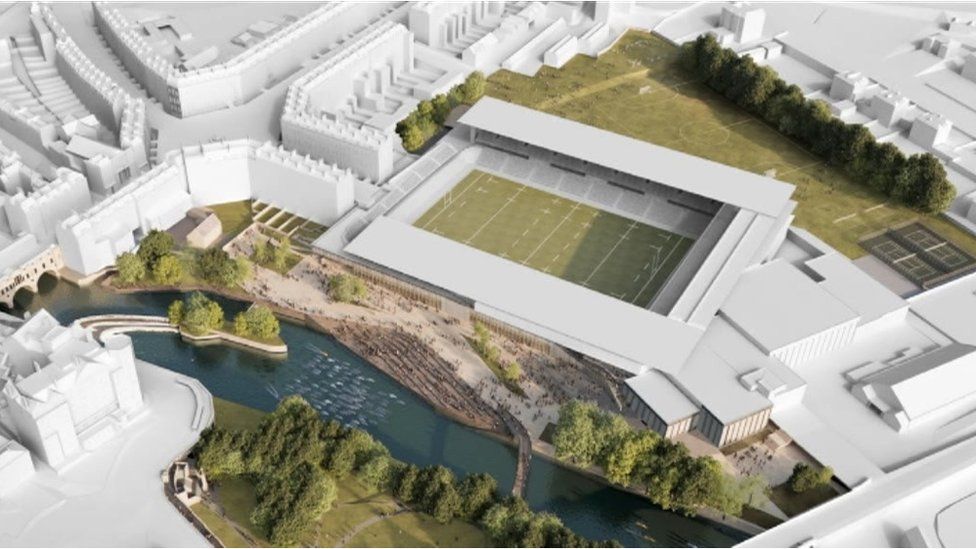 Initial designs for the new stadium at Bath's recreation ground have been unveiled.
The plans include a "community-focused stadium" with leisure and sports facilities and an underground car park.
Caroline Kay from the Bath Preservation Trust questioned the views people would have inside the stadium - and what views people outside would have of the stadium itself.
Public exhibitions are now under way to allow people to have their say.
She added: "The opportunities being seized here are very positive and in particular regenerating the riverside.
"My concern about these designs is the impact on views in and out of the recreation ground and what it will look like, in terms of height and the views.
"Will it be looking at a great big solid wall from the back of the west stand or something with a lighter touch?"
The delay in the project has been due to clarifying whether Bath Rugby could lease extra land for the development as it was owned by the Bath Recreation Ground Trust.
The conditions of the lease have now been resolved but on the condition the club makes leisure facilities available for the community.
Bath Rugby chief executive Tarquin McDonald said: "There's got to be opportunities for the city - riverside regeneration, sporting participation, community opportunities and that is what has really driven this.
"This is a really important site in the middle of a really important city and there's a unique sense of ownership that everyone feels in Bath and we need to involve everyone in the design process."
Related Internet Links
The BBC is not responsible for the content of external sites.