Seal found 17 miles inland on Somerset Levels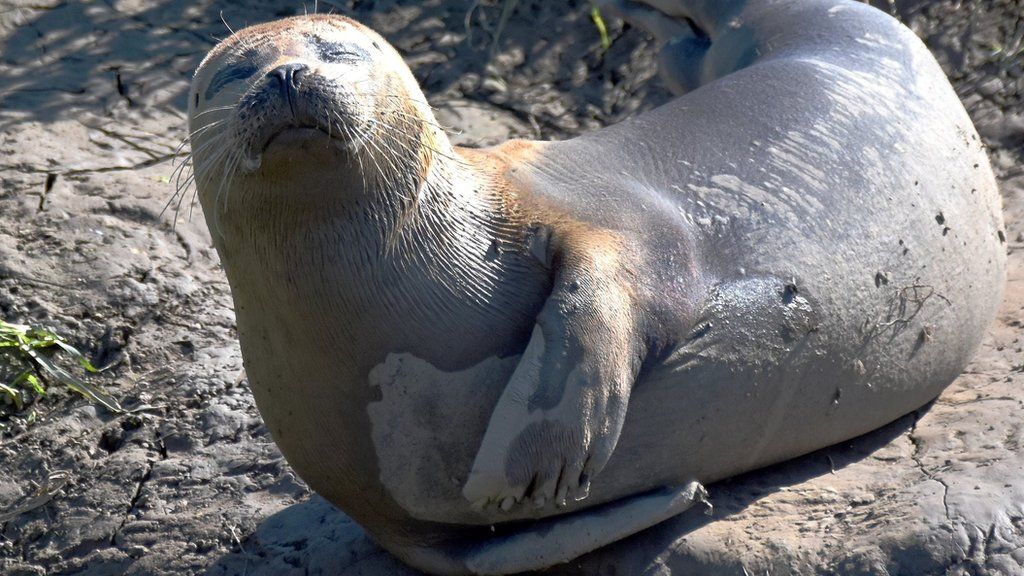 A seal has been spotted "lounging in the mud" 17 miles (28km) from the sea in a field in Somerset.
The animal, thought to be a harbour or common seal, was spotted basking in the sun on the Somerset Levels by nature photographer Carl Bovis on Sunday.
Mr Bovis said it "looked as happy as Larry" on the banks of the River Parrett, despite being miles inland.
The RSPCA said it probably followed the fish upstream but seals were "usually capable of finding their way back".
Mr Bovis, said he was messaged on Sunday by his friend Milly Burt claiming she had seen a seal in a field as she drove past.
"I thought 'what?' but when I went to where she said she'd seen it and came back down river, it was right in front of me," he said.
"I was amazed. It was lounging on the mud beside the river and it saw me straight away but didn't seemed concerned or fussed.
"It was beautiful to see. I've only ever seen a seal once and he looked just fine and as happy as Larry."
Despite the low water levels, the wayward animal is thought to have swum up the River Parrett chasing fish from the Bristol Channel, through Bridgwater and on to the Somerset Levels.
The RSPCA said seals are found inland "from time to time" but are "usually capable of finding their way back to the sea".
"Seventeen miles is not a concerning distance, as long as there's the river nearby," a spokeswoman said.
"So hopefully once he's enjoyed a bit of sunbathing inland, he'll head back out to sea."
Related Internet Links
The BBC is not responsible for the content of external sites.