Royal Navy rescues baby pigeon aircraft carrier stowaways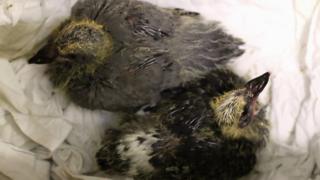 Two baby pigeons found abandoned on a Royal Navy aircraft carrier have been flown ashore to be safely looked after by the RSPCA.
The pair were found on the HMS Queen Elizabeth by a sailor who heard them tweeting on a high ledge on deck.
Estimated to be about 10 days old, the chicks were discovered shortly after the ship left Portsmouth.
They were syringe-fed porridge and water on board before being flown by helicopter to RNAS Yeovilton, Somerset.
The chicks, named F-35 and Lightning - after the fighter jets which are to be tested during the ship's deployment to the US - are now being cared for at the RSPCA rescue centre in West Hatch near Taunton.
'Adventurous back story'
Lieutenant Commander Lindsey Waudby said: "While our focus for the deployment is getting the new jets on board for the first time, we are also prepared to conduct humanitarian relief, should we be called upon to do so - we just didn't think that would be quite so soon."
Bel Deering, from the RSPCA, said the birds "are the first in my memory to be rescued from a Royal Navy warship".
"While RSPCA West Hatch cared for more than 4,500 wild animals last year, from seals and gulls to otters and more than 300 pigeons, these two definitely win the prize for the most adventurous back story."