Hinkley Point C nuclear plant 'on track', says EDF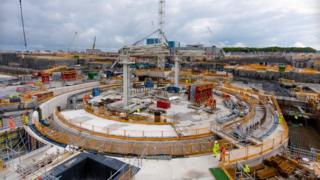 A nuclear power station being built in Somerset is on track for its next major milestone, the firm behind it has said.
The construction of Hinkley Point C began two years ago after the government signed a deal with French firm EDF and its Chinese partner CGN.
It is expected to provide 7% of the UK's electricity needs for 60 years.
EDF said it would be a "significant moment" when a 4,500 tonne concrete platform supporting the reactor buildings was completed in 2019.
More than 3,200 people are building the power station near Bridgwater.
Stuart Crooks, Hinkley Point C managing director, said unions, contractors and suppliers had all been "successfully working together" on the plant, which is expected to open in 2025.
"Everyone working on the project should be proud of what they have achieved so far," he said.
"I am also proud of the positive impact that Hinkley Point C is having on the south west."
Peter McIntosh, from Unite union, said the plant was continuing to be an "enormous jobs generator" for the south-west of England.
"It is creating thousands of highly skilled construction jobs and EDF has already started to deliver on its commitments with over 250 apprenticeships," he said.
"Once it starts operating, it will employ a 900-strong workforce."
Energy Minister Richard Harrington said Hinkley Point C also "marks a significant step forward in our transition to a clean, low-carbon energy system".
There have been protests in recent weeks over mud from the seabed near the site being dumped near Cardiff, while in March hundreds of staff staged a sit-in at the construction site after claiming they were not paid when snow brought work to a halt.