Stolen memorial for 'last Tommy' Harry Patch replaced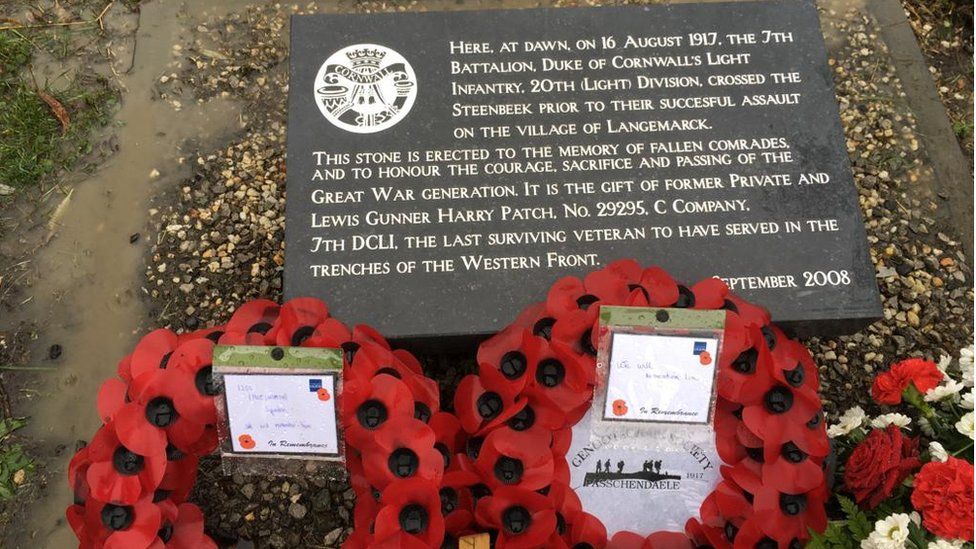 A replacement memorial stone for Britain's last survivor of the World War One has been laid after the original one was stolen from a plinth in Belgium.
Harry Patch died in 2009 aged 111 and was the last surviving British soldier to have fought in the conflict.
He bought and paid for the original stone and was at the unveiling in 2008 but it was stolen in July.
A private ceremony was held to mark the installation of the new stone earlier.
It was created following a crowdfunding campaign run by Peace Village after the theft was reported to police in Belgium on 12 July.
RAF Air Cadets visiting the 6ft (1.8m) memorial in the Langemarck area found it missing.
The target sum of 1,500 Euros for the new memorial was reached in less than five hours.
Tour guide Simon Louagie, from Peace Village which houses guests who visit the battlefields every year, said: "Harry's gone but his message remains and we now have a physical memory of him back here again.
"It allows us battlefield guides the chance to come over here and tell his story and spread his message he had himself."
Langemarck is the site of one of only four German cemeteries in the western Flanders region of Belgium with more than 44,000 soldiers buried there.
The village is about six miles (10km) north of Ypres where hundreds of thousands of soldiers lost their lives in World War One.
Related Internet Links
The BBC is not responsible for the content of external sites.