Somerset survey: Girls see 'self-harm as stress-relief'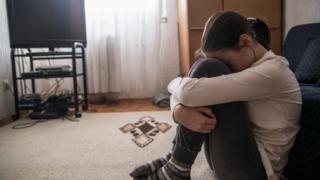 More than one in four secondary school girls in Somerset have self-harmed to cope with a problem or stress, according to a council survey.
Somerset County Council asked 7,000 secondary school pupils to gain a clearer picture of their well-being.
Public health consultant Alison Bell said self-harm was a sign of emotional distress, adding: "It isn't a medical issue, it's a parenting issue."
Last week, an NHS report said one in four young women had a mental illness.
'Tread on eggshells'
"We need to be more open about why so many of our young people are feeling so unhappy and don't have good skills to cope with stress," added Ms Bell.
"We need to talk about our coping mechanisms as similar to immunisations.
"With children's immunisations we give them a safe inactive dose of a toxic virus to enable their body to learn to respond to it."
She added that talking about stress and discussing practical solutions like sleep, exercise and eating well would help parents support their children.
A Somerset mother whose daughter started self-harming after being bullied at secondary school told the BBC: "To see your child going through it, it's absolutely soul destroying."
She added: "You sort of tread on eggshells and you try to be a certain way to not upset them because you don't want to be the reason why they do it.
"But after a while, you then realise that's not the answer. It's not helping them.
"They need to understand that they're valued, they are worth something, and they also do things wrong and they need to be told about that as well."
Nationally there have been growing concerns around the numbers of young people who are self-harming in some way.
Self-harm is defined as when someone self-injures on purpose as a way of expressing emotional distress.
It can include anything from pulling out hair and scratching to cutting and taking overdoses of substances like painkillers.
NHS statistics released in September showed hospital admissions for self-harming among 10 to 24-year-olds had gone up by 71% between 2011 and 2018 in Somerset.