Bath dead Christmas trees will 'clutter streets'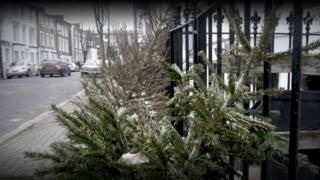 Christmas trees will not be collected from the kerbside in the Bath area over the New Year, the council has said.
Bath and North East Somerset (Banes) said it was "stopping garden waste collection" over the winter, but people could take trees to recycling centres.
Lib Dem councillor Tim Ball warned of "dead trees cluttering the streets".
The Conservative-run council said it was also talking to a charity which could collect trees for a donation.
Banes said "paid-for fortnightly garden waste collections service" would restart at the end of January, but trees could be put out free of charge on those collection days between 28 January and 8 February.
'Not dangerous'
Mr Ball said: "It's a deal for a lot of families locally. What we don't want to see is Christmas trees dumped on every grass verge, which they normally are in the second week in January.
"They haven't communicated things very well at all."
Lorna Mead, from Keynsham near Bath, said: "I'm able to get to the tip and dispose of it myself, but I suppose for people that can't, it could be a problem."
Luciano Arinari, also from Keynsham, said: "People can leave them in their back gardens.
"It's not like Christmas trees are dangerous when they're dead, lying there. I think people will suck it up."
A Banes spokesman said: "We know residents want us to keep the garden waste winter shutdown to a minimum and as a result of people recycling more, we've reviewed our budget pressures and are able to start the green waste service earlier than planned.
"Please cut Christmas trees up small enough to fit in the lorry and make sure they are free of decorations."