New site found for Weston-super-Mare's RNLI lifeboat HQ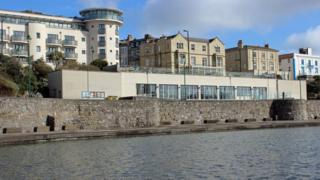 A former restaurant will be the permanent home for the RNLI's lifeboat station in Weston-super-Mare.
The new base will be at the Cove Restaurant building on Birnbeck Road in the town.
In 2015 the RNLI identified Madeira Cove as its base but later concluded it could only launch lifeboats from there at limited periods due to tide times.
Spokesman Glyn Hayes said: "We've looked at all sorts of areas around the coast and it's been difficult."
A total of 14 sites were checked around Weston Bay.
He said the current temporary base at Birnbeck was too small to store lifeboats and equipment.
"The biggest problem is that we are unable to launch the bigger of our lifeboats because the tide goes out from Knightstone Harbour.
"We can only launch two hours either side of high water and can only launch four out of the 12 hours with a large boat," said Mr Hayes.
He said the new site was ideal as it meant access to the water at all times.
The RNLI will lease the restaurant from North Somerset Council and will now seek planning permission for a launching slipway.
A total of £750,000 has been raised by the Weston RNLI fundraisers to pay for the headquarters.
The aim is to get the slipway built and the building ready within two years.