Turnip Prize 2018: Spoof art award winner announced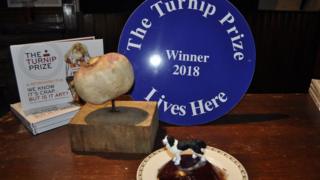 A plastic dog placed on a plate of jelly has won top honours in this year's Turnip Prize.
Now in its 19th year, the spoof award goes to someone who has "created something that they perceive to be crap art using the least amount of effort possible".
The gong went to "Collywobbles" by an artist called Stroke Me.
Organiser Trevor Prideaux said he was "delighted with the lack of effort taken to create this work".
This year's award attracted 90 entries, and Mr Prideaux said that Collywobbles "will be remembered in art history for no time at all".
The artist described himself as "a lavatory attendant" and said he was "completely flushed at winning".
The Turnip Prize pokes fun at modern art's most important award, the Turner Prize.
It began in 1999 as a response to Tracy Emin's unmade bed, which was exhibited at the Tate Gallery that year.
Winners of the competition, organised by a Somerset pub, receive an actual turnip attached to a wooden base.
Last year's winner was "Pulled Pork" by artist Chris P Bacon - a toy pig being pulled by a tractor.
You may also like: