North Somerset Council in £1 bid for Birnbeck Pier sale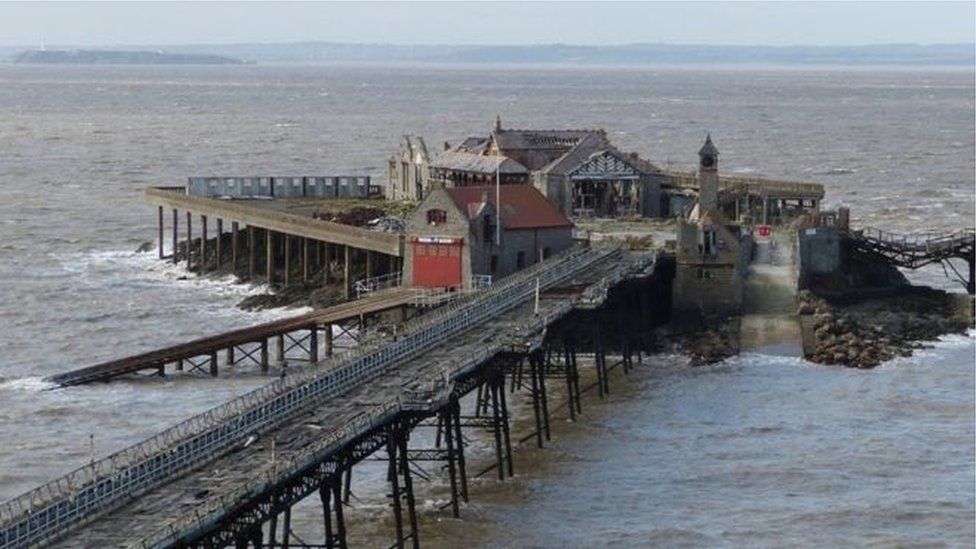 The owners of Birnbeck Pier have been offered £1 to sell it and avoid the derelict Victorian structure being forcibly taken into public ownership.
CNM Estates has been issued with a compulsory purchase order (CPO) after failing to carry out repairs.
"I'll deliver the pound coin personally if it makes it any quicker," said Don Davies, leader of North Somerset Council, which made the offer.
CNM Estates said it will heed "constructive suggestions" for repairs.
Birnbeck Pier, a Grade II* listed structure in Weston-super-Mare, has been on Historic England's national at-risk register since 1999.
In February, the council approved the CPO, a process which could take up to 18 months to complete.
As part of the plans, the RNLI will move back into their original lifeboat station on Birnbeck Island.
Speaking to Radio Bristol, Mr Davies said the condition of the pier made him want to "weep."
"As part of the CPO process, we wrote to the owner and made an offer for a voluntary sale, so they don't have to pay for legal costs themselves.
"This could save 18 months of effort, and this nominal sum will mean we can get down to the hard work of getting the pier back to the state it should be."
CNM Estates, which has owned the pier since 2014, said it "would like to see the RNLI life boat station and other uses returned and for the public to enjoy this truly amazing location.
"Planning applications to kick start the repair works and the regeneration will be submitted shortly."
Related Internet Links
The BBC is not responsible for the content of external sites.