Portishead mum mistakes pregnancy for lockdown weight gain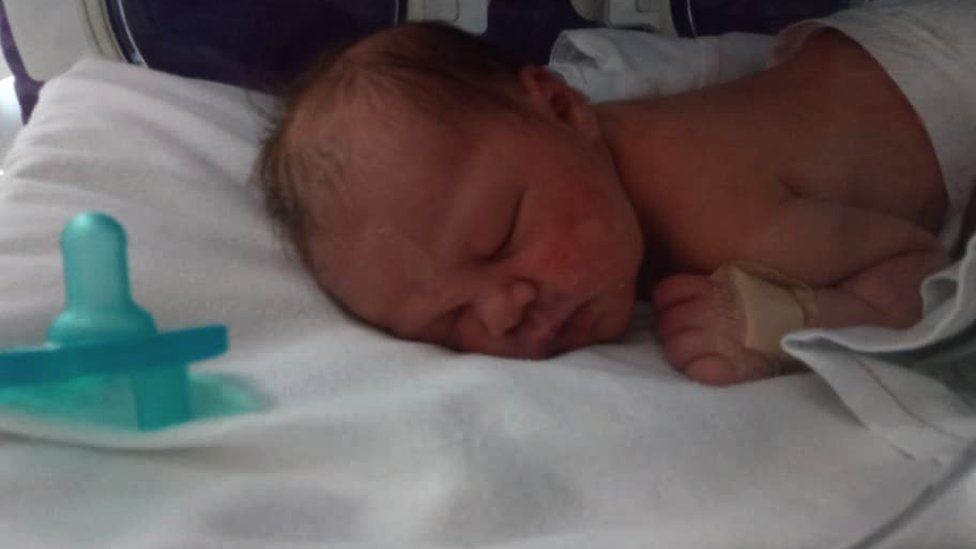 A mother who gave birth just 10 days after discovering she was pregnant thought she had put on weight in lockdown.
Samantha Hicks, from Portishead, North Somerset, attributed her baby Julia's kicking to sickness having been ill.
Her pregnancy was missed even when she was in Southmead Hospital in Bristol with Covid-19 in November .
"It never occurred to me I was pregnant as I had taken two previous tests which both came back negative," she said.
When Mrs Hicks was taken to the Covid ward in hospital, doctors asked if she was pregnant and she said no.
She said she had noticed a small amount of weight gain but put it down to lockdown and that she thought she might have Irritable Bowel Syndrome (IBS) as it runs in the family.
Mrs Hicks said: "I felt a bit of movement but I thought it was because I had not been well.
"My tummy was a bit swollen but again, because I felt sick and I wasn't great, it never occurred to me I was pregnant."
Her husband Joe said: "On Christmas Day, I asked her if she was sure she wasn't pregnant, but she said no and she knows her own body.
"Then on January 1, I had my hands on Sammy and we felt a baby kick.
"We took another pregnancy test which came back positive."
At that stage, Mrs Hicks thought she was only five or six months into her term and returned to her job in a care home, walking 40 minutes to get there.
Ten days later, her contractions began and Mr Hicks rushed her to hospital
"It was unreal, the doctors only realised Julia was full term when she was born," he said.
The couple, who have two sons aged three and eight, said they had not planned on having more children.
They have since been "inundated" with gifts from friends, family and strangers in Portishead, who have offered blankets and essentials to help out.
"We want to say thank you to everyone really," Mr Hicks said.
Helen Blanchard, Director of Nursing and Quality at North Bristol NHS Trust said: "We would like to pass our congratulations to Mrs Hicks and her family on their new arrival.
"As Mrs Hicks experienced when she was cared for at Southmead, it is routine practice to ask people if they are, or could be, pregnant upon admission.
"However, we would ask a patient to do a pregnancy test if they were undergoing specific operations or procedures."
Related Internet Links
The BBC is not responsible for the content of external sites.