Dunster trail users invited to shovel shingle off paths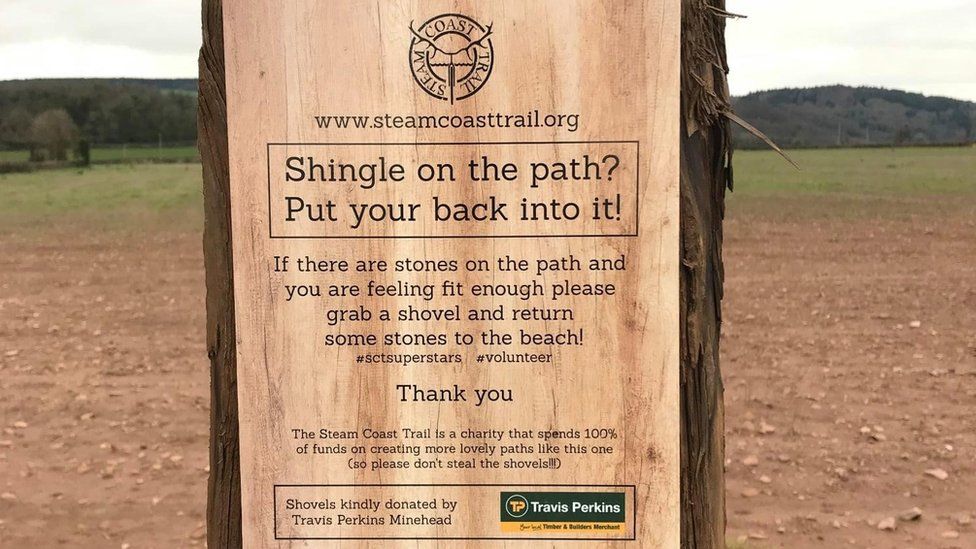 A charity has placed shovels along a coastal path to encourage people to keep it clear from shingle.
The Steam Coast Trail at Dunster Beach opened in 2016 but shingle gets blown onto the path during stormy weather.
Project manager Sarah Elwood said: "It's just not very pleasant and it's not terribly comfortable. We also want to make it accessible for people with mobility scooters."
People are advised to help only if they feel able as shingle is heavy.
The signs also ask people to sanitise their hands before using them to prevent the spread of coronavirus.
"We've certainly had some amazing people who've gone down there and shovelled enormous amounts, carrying their own shovels, so we thought this would be easier for them.
"We are encouraging people to do what they can.
"It's a heavy job - shovels are heavy and shingles are heavy."
The two shovels were donated by building firm Travis Perkins in Minehead.
Related Internet Links
The BBC is not responsible for the content of external sites.