Covid-19 meal scheme 'like Christmas' to those in need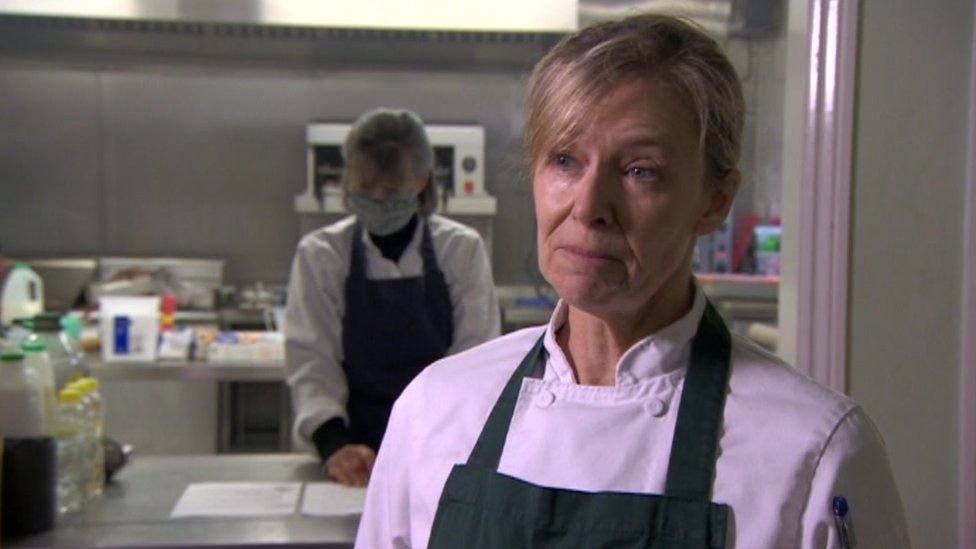 A volunteer-run cooking project is providing regular healthy meals for those in need of support during lockdown.
The Wivey Food Project in Somerset has cooked more than 5,000 meals since the project started 10 weeks ago.
Healthy meals are cooked at Wiveliscombe Rugby Club and delivered to vulnerable and elderly people who need help putting food on their table.
Rosemary Hutchings, 87, said receiving a delivery was "a bit like Christmas".
"I've had several falls and I'm very much housebound.
"It's a bit like Christmas, it's exciting wondering what you are going to have. It's great," she said.
The volunteers are supported by food charity Fare Share, Somerset County Council and local growers. The project also benefits from donations from local residents.
About 500 meals per week are produced by the volunteers and head chef Kate Benson has also been offering online cooking lessons to help people prepare their own healthy meals when the pandemic is over.
"The need is coming at us quite fast. There's a single dad who is home-schooling his children and he got in touch with us because he just said could I have some food, I'm finding it difficult to cope.
"It's an interesting one to think what would have happened if we weren't here," she said.
Volunteer cook Kate Lambert, is a regular volunteer despite suffering from "long Covid".
"Nobody minds that I can only do about three hours then have to go home and lie down. It means I can come and do something useful and feel useful," she said.
One of the beneficiaries of the Wivey Food Project is single mother Charlie Adams, 35, who said she would face a huge financial struggle without the support.
"I think in the pandemic you have got to put pride to one side and say ok, I do need the support, I do need the help," she said.
A Somerset County Council spokesman added: "Anyone in Somerset who needs support with access to food or medicines, or emotional and financial support, can call the Somerset coronavirus helpline on 0300 790 6275, seven days a week, 8am-6pm."
Related Internet Links
The BBC is not responsible for the content of external sites.