Fancy dress Friday is the latest fashion in Frome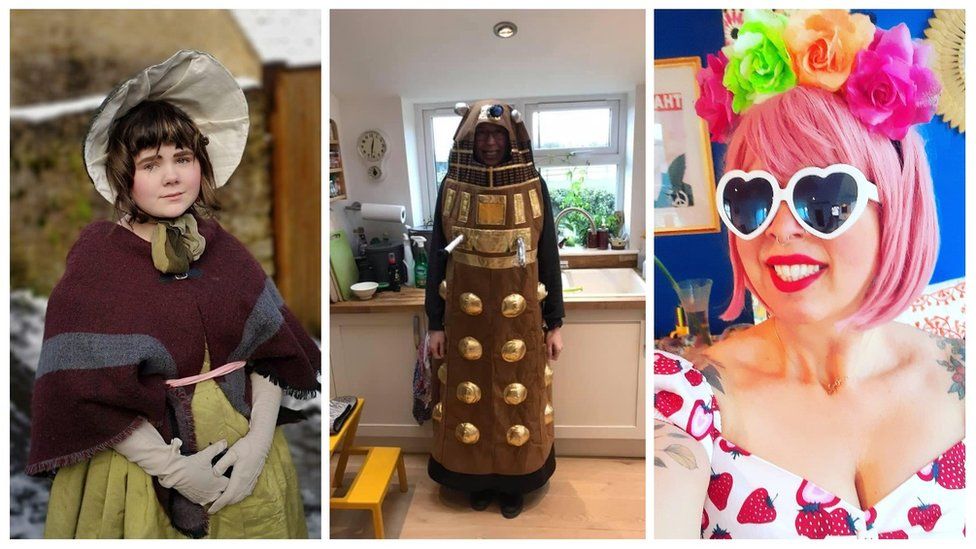 Fancy dress has become the Friday fashion of choice for hundreds of people.
More than 600 people are sharing photos and commenting on eye-catching outfits on social media.
The group has been inspiring families in Frome, Somerset, to get creative with their costumes.
Founder Ginny Adams said getting dressed up can help provide "a sense of purpose" and she hoped that it gave people "an excuse to bother".
The performer, who runs a fitness class in fancy dress, said she set up the group on Facebook last month "on a whim".
Ms Adams said: "I remember my nan would always get dressed and put her face on because it made her feel ready for the day ahead.
"Staying in your pyjamas is okay for a few days but if it becomes a long-term thing, it can affect your mental health."
Lisa Dixon replaced her vintage clothing with a horse costume for her trip to the supermarket and Radek Evans said dressing as a gorilla while working at the food bank had brought a smile to many a face.
Ms Adams said: "The group is a very supportive space. It is a small thing but it is the small things that can help lift the mood."