Wells Bishop's Palace moat drained in error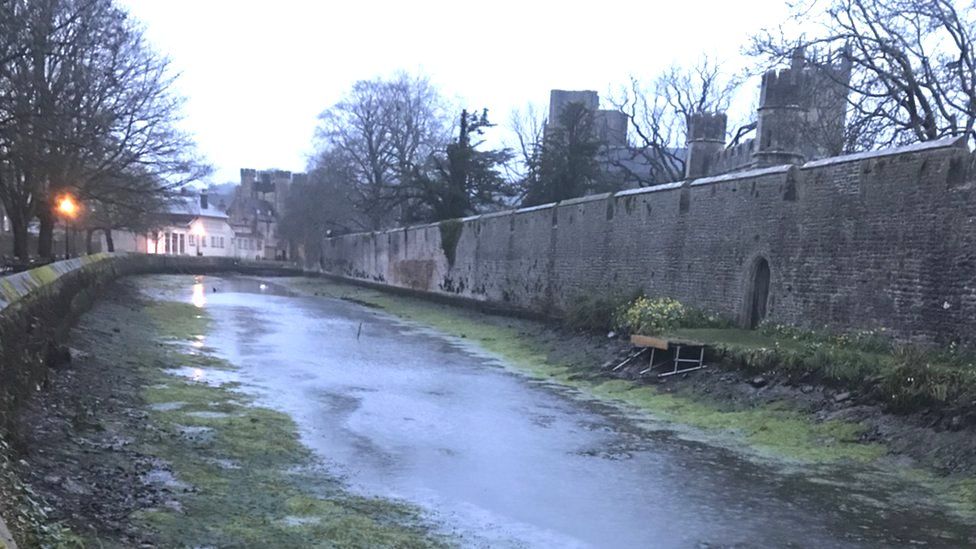 The water in a 14th Century moat all but disappeared after an "error" by the head gardener.
Local residents were left scratching their heads as they tried to figure out why the moat at Bishop's Palace in Wells was nearly empty.
Suggestions on Facebook ranged from a sink hole to the Bishop having emptied it with his "remoat control".
But estates manager James Cross said he had opened the sluice gate anticipating heavy rain which didn't arrive.
"It's my fault actually," said Mr Cross.
"I slightly over-anticipated how much rain we were going to get last night," he added.
"Earlier in the winter it [the sluice gate] could have been opened as much as it is and the moat would still be very very full.
"We opened it up a little bit last night anticipating lots of rain and until now we haven't had very much so hence it is empty."
The palace has been home to the Bishops of Bath and Wells for over 800 years. It dates from the early 13th Century with the moat added in the 1340s.
Mr Cross said the moat would not take "too long" to fill back up and in the meantime staff had been clearing out the winter debris from in front of the sluice gate.
He added: "There is a deep channel of water left, with between half a metre to a metre of water, the banks have dried up, but there is plenty of room for the smaller fish that we have and the swans and ducks are also fine."
Related Internet Links
The BBC is not responsible for the content of external sites.