Sussexes to Sylvanians: Tiny wedding shot by royal snapper
By Jonathan Holmes
BBC News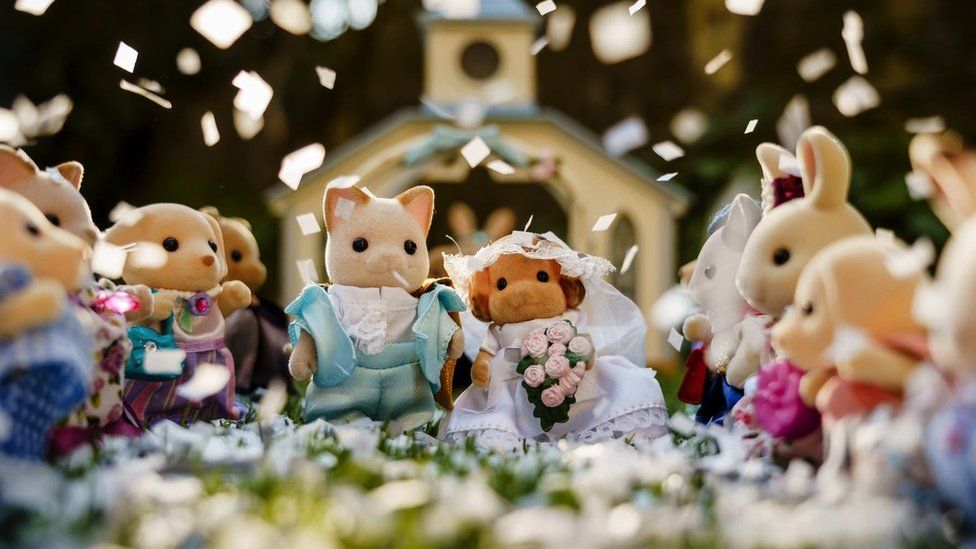 A royal photographer from Prince Harry and Meghan Markle's wedding has captured a ceremony on a smaller scale - featuring Sylvanian Families toys.
Joe Short was commissioned by his daughter Juno to cover the big day.
With lockdown impacting on the industry, Mr Short said he was "delighted to be working" and spent a day covering the nuptials.
A Bentley, marquee reception and a famous movie scene all feature in the shots taken in his garden.
"The biggest task was keeping the dogs away, we have an outtake with one weeing on the marquee," he said.
Mr Short has largely been without his regular wedding photography work for the past year because of the impact of lockdowns and coronavirus restrictions.
"Most photographers have been just moving dates back because there's nothing I can do right now.
"It's nobody's fault for these couples and I'm lucky everyone has been understanding.
"It was just lovely to get the camera out and photograph a beautiful couple again," he said.
Talking about the shoot, Mr Short said: "It was very hard to keep the entire congregation on its feet, especially when the wind was blowing.
"It was a nice break from the heaviness of what we've all had to deal with.
"A lot of people felt really quite down with the third lockdown and it was fun to take people away from it all just for a little moment.
"In a way it reminds people that it will be back and weddings will be special when they happen again."
Related Internet Links
The BBC is not responsible for the content of external sites.