Covid-19: Bath Abbey helps families remember victims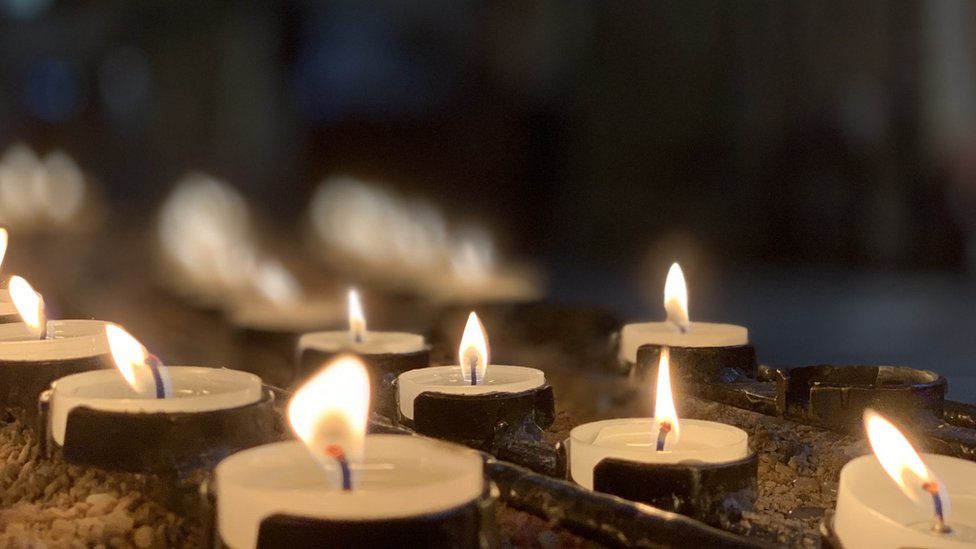 A virtual service of remembrance has been held to remember those who have lost their lives with Covid-19.
Hundreds of people took part in the service hosted by Bath Abbey which heard how Somerset and Wiltshire families have been affected.
The service was organised in order to provide "solace and sharing in loss that is part of bereavement".
A remembrance anthem composed for the occasion was performed and relatives shared memories of their loved ones.
Amanda Redgewell from Radstock took part in the service, sharing her own memories.
She lost both her parents to the virus within 24 hours of each other.
She and her sister also contracted coronavirus when they travelled to look after their mother, not realising at the time that she had Covid.
They both then unwittingly spread the virus to their own families.
"I think we made a decision that affected our whole family by going over to visit my parents. It led to seven of us being infected and four of us being hospitalised," she said.
Ms Redgewell, who works as a hospice nurse, spent a month in hospital and was unable to see her parents again before they passed away.
"I've looked after hundreds of people who are dying and wasn't able to be there for my own parents, which I am struggling with a little bit," she said.
Nicola Hartley, a senior sister on a Covid ward at the Royal United Hospital, Bath, said she had seen "an awful lot of sadness" over the past 12 months.
"Every loss that loved ones have experienced, we have stood alongside them and shared their grief.
"I think what's important now is we need to recover, make time for ourselves and get back to a more emotionally happy place" she said.
Reverend Narinder Tegally was one of the organisers of the event.
The lead chaplain at the Royal United Hospital said: "So many families were not able to say goodbye in an appropriate funeral, we felt it would be good to mark that at the anniversary."
Dr Mohammed Gamal Abdelnour, Imam of Bath Mosque, said: "Coronavirus has largely changed the way we grieve, the way we honour the demise of our loved ones, and also the way we express our condolences. All these manifestations doubled our grief and added salt to our wounds."
Reverend Ruth Worsley, Bishop of Taunton, spoke at the service. She said: "Our hope is that the Remembering Together Service will provide some of that solace and sharing in loss that is part of bereavement."
Related Internet Links
The BBC is not responsible for the content of external sites.