Somerset lifeboat warning after couple cut off by high tide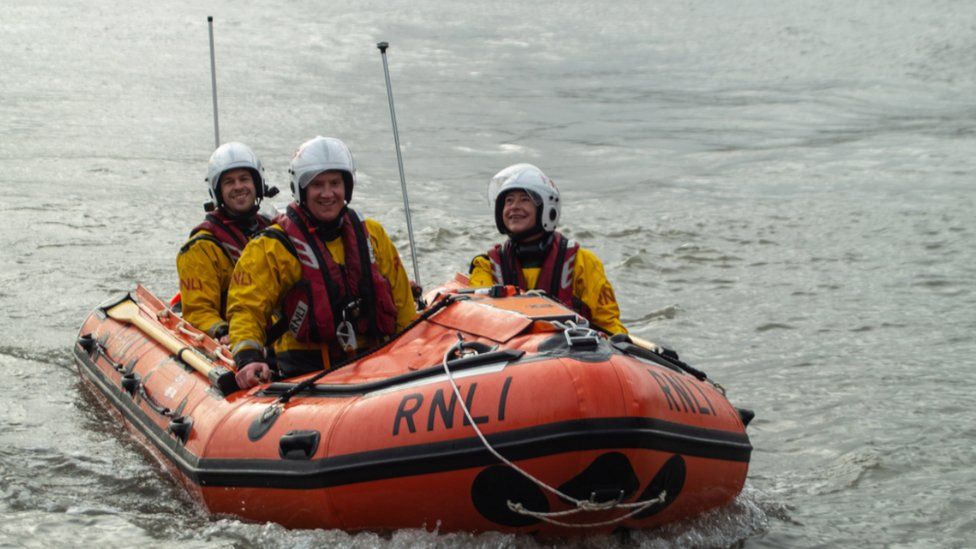 People are being reminded to check tide times after a man and a woman were cut off by the sea and had to be rescued from a cliff ledge.
Two lifeboats and a helicopter took part in the operation in St Audries Bay near Watchet, in Somerset.
The pair were able to scramble into a lifeboat and were taken to shore. They were shaken but uninjured.
The couple, in their 20s, found themselves in trouble while taking an evening walk at 20:30 BST on Tuesday.
Minehead's volunteer RNLI crew launched the station's lifeboats after a 999 call from the couple reporting that they were stuck with the tide rising below them.
"They ended upon a ledge of very crumbly shale about 10ft up from the sea and there was absolutely no way they could move," Richard Gay, from Minehead RNLI, said.
"They had a sheer cliff behind them and water to either side. They were very glad to see us."
Minehead RNLI spokesman Chris Rundle said that in past years the station has started its own campaign warning people to check the tides before walking along the coast.
"Clearly we need to keep driving the message home," he said.
"If people aren't familiar with the area they often have no concept of how quickly the tide comes in and how high it rises and we have the second highest tidal range in the world along this coastline.
"We always recommend people to check tide tables before walking along the coast and to always carry some means of calling for help."
Related Internet Links
The BBC is not responsible for the content of external sites.