Bikini rule 'putting women off' handball' says Bath team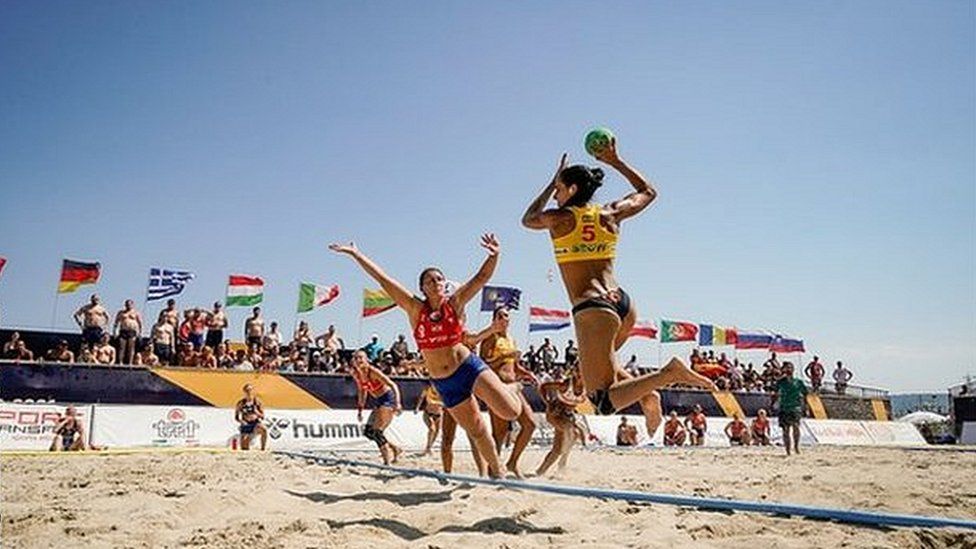 Making women wear bikinis to play beach handball is putting them off the sport, a university team has said.
The Norwegian team's shorts were deemed "improper".
Bath co-captain Emma Steggles said: "I would feel extremely uncomfortable being made to wear a bikini to play a sport I love."
The European Handball Federation said it fined the Norway team 1,500 euros (£1,295) because the players' shorts were "not according to the athlete uniform regulations".
But Bath University handball team said it manages to "play beach handball in gear other than bikinis" while Ms Steggles criticised the fine.
"Our chair put it quite poignantly when he said; 'Look girls, I think I'd look pretty amazing in a bikini bottom but I'd hate it if I was forced to wear them'," she said.
"It's putting people off the sport being made to play in a bikini."
She said the shorts the Norway team wore were "short and skin-tight" and "absolutely did not impede anybody else's game nor their own".
"At Bath, we play indoor handball and the regulations are different - we don't have to wear a bikini," she said.
"But because of Covid we've had to resort to training outside and everyone opted to wear shorts and t-shirts.
"If it was a requirement to wear bikini bottoms, I don't think we'd have had such a big turn out."
Ms Steggles said woman in sport "can't win".
"Either you're wearing too little or you're wearing too much," she said.
"It's a massive issue - body confidence in women - and being made to wear a bikini makes it a lot harsher."
Related Internet Links
The BBC is not responsible for the content of external sites.