Weston's A&E overnight closure 'not a downgrade'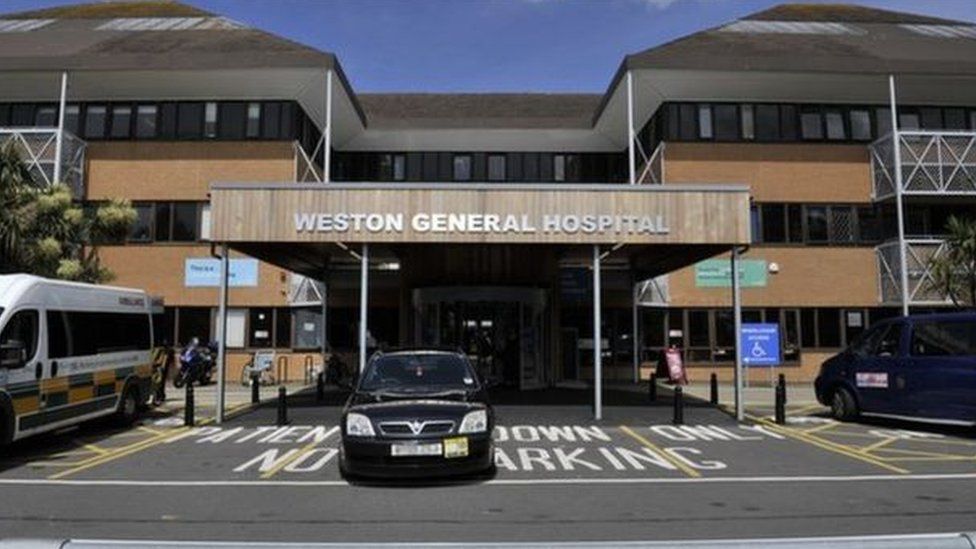 The Accident and Emergency Unit at Weston General Hospital will not reopen overnight because staffing remains "very difficult".
It was temporarily closed to admissions between 22:00 to 08:00 BST in 2017, and has not returned to a 24-hour service.
Councillors in North Somerset have been told by the hospital's trust to stop seeing the change as a "downgrade".
Health managers said they expect Weston General to see more patients, not fewer, within the next 10 years.
A panel of councillors, that has responsibility for scrutinising healthcare provision, raised concerns over the continued overnight closure of the hospital's emergency department.
Dr Andrew Hollowood, the deputy medical director of the University Hospitals Bristol and Weston Trust, told the panel: "There have been no problems in terms of quality of care [but] the staffing position in the emergency department has remained very difficult.
"There's no real position to take us back to a 24/7 rota. We are still advising that we continue with that 14/7 rota system."
When the overnight closure was first put forward, there were concerns that far more patients would be taken to Bristol but Dr Hollowood said that had not happened.
"We are not overburdening the ambulance service overnight, nor are we unnecessarily transferring patients to Bristol overnight. Patients are taking the opportunities to seek alternative healthcare provision."
Peter Brindle, the medical director at the Bristol, North Somerset and South Gloucestershire CCG, also spoke to the committee.
He said: "The vision is that we will be seeing more and more patients at Weston over the years.
"Rather than downgrading... we're expecting it to be busier with higher turnover, maybe a different mix of patients but generally an increased number of people being served by Weston Hospital - far, far from any sign of downgrading."