Weston-super-Mare beach donkeys 'happy to offer rides in heat'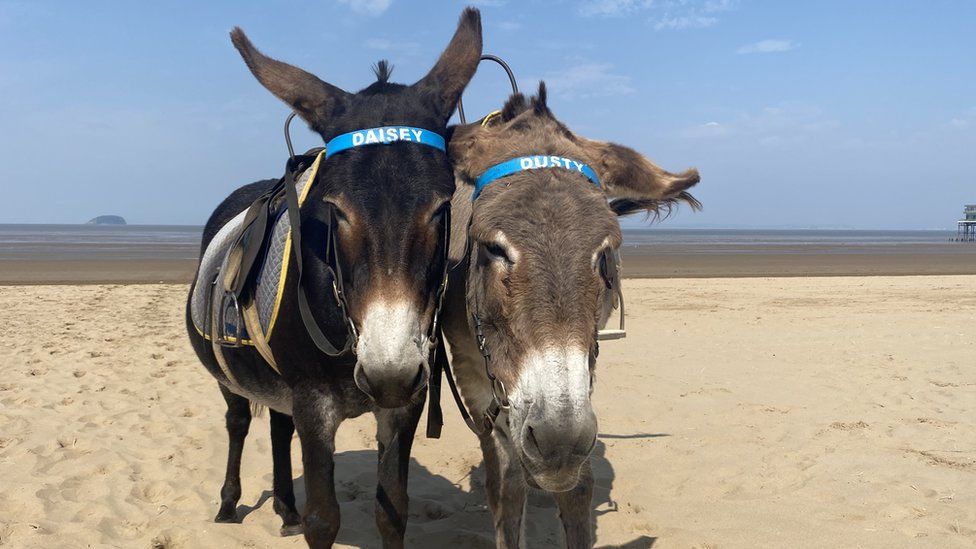 A family firm offering donkey rides along a beach has sought to reassure the public the animals are well cared for and happy to work in the heat.
As temperatures hit 30C in Weston-super-Mare some people raised animal welfare concerns about the donkeys.
Donkey rides are operated by two firms in the seaside resort. The council said both have established procedures in place to ensure the animals' welfare.
Owner Kevin Mager said his donkeys had plenty of water, hay and shade.
Mr Mager, of RG Mager and Sons which runs Weston Donkeys, added that the donkeys would "dig their heels in" if they were unhappy.
The RSPCA has yet to confirm if it is investigating.
Donkey rides have been offered to beachgoers at Weston since the 19th century.
But when a member of the public, Rose Beggan, saw them being brought to the beach in the heatwave, she said she was "furious" and complained to both North Somerset Council and the RSPCA .
"In this extreme heat, people are getting [worried] about dogs being left in cars, but it was perfectly okay to have two lorry loads of donkeys and have them walking around the beach carrying people?" she said.
"Just because it's been a tradition, it doesn't make it right."
A review of Weston Donkeys posted on Google on Wednesday added: "In boiling hot conditions I find it inhumane and cruel".
According to the RSPCA, domesticated donkeys have thick hairy coats and are "not adapted to the heat" so might struggle to regulate their body in high temperatures.
To keep the animals healthy and comfortable, the charity said water and shade was "essential at all times" .
Mr Mager said his donkeys had plenty of both and were "not getting overworked".
"Different donkeys come out on different days and they've only got a few hours out there," he said.
"We have two lorries, blocking off the sunlight so they can stand in the shade.
"And they enjoy coming out seeing the kids. You wouldn't get them to walk up and down if they didn't want to do it."
In a statement the council said that due to the high temperatures its trading standards service had been in contact with the operators of both businesses who have been reminded of their responsibilities.
It added that both companies are licensed under the Animal Welfare (Licensing of Activities Involving Animals) Regulations 2018.
Mike Bell, deputy leader of the council, added: "I trust our operators to do the right things and look after their animals as they have done for the best part of 100 plus years."
Related Internet Links
The BBC is not responsible for the content of external sites.