Somerset Levels: Former farm bought to link nature reserves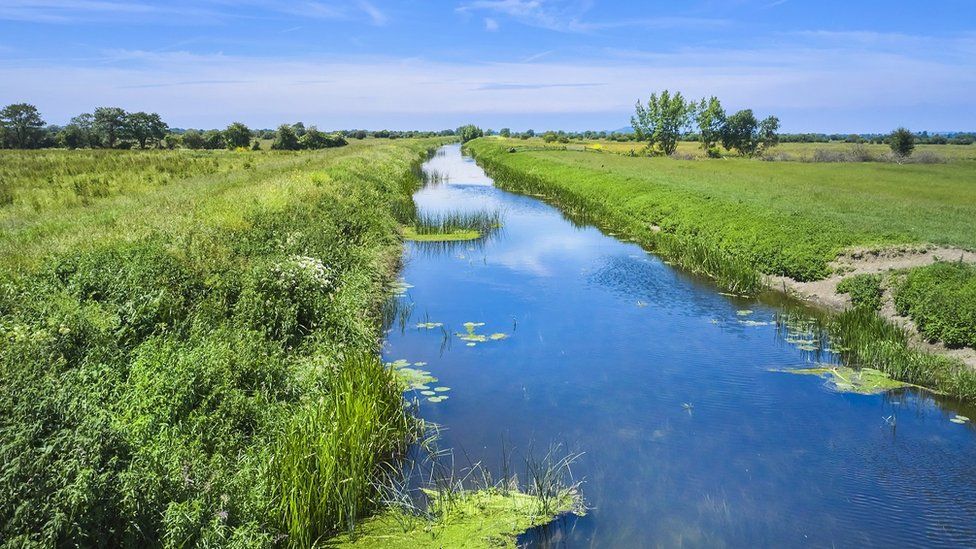 A wildlife trust has bought a former farm to create "wildlife corridors" between nature reserves.
Somerset Wildlife Trust said Honeygar Farm was now part of its 10-year plan to fight habitat and biodiversity loss.
Nature will now be allowed to reclaim parts of the farm, and the water table raised.
Chairman of Natural England Tony Juniper said sites like Honeygar could become "a powerful solution" to the climate crisis.
The former dairy farm covers around 46 hectares (113 acres) of the Avalon Marshes between the trust's existing Westhay Moor and Catcott nature reserves.
Simon Clarke, head of nature recovery, said the purchase was part of a wider strategy to allow biodiversity, animals and plants to thrive across the county.
He said: "We're looking at land where we can improve the natural networks for the species that live there.
"Honeygar, from our perspective, is a really, really important site to create a green corridor to some of the other fantastic sites on the Avalon Marshes.
"What we're going to do is make small changes to how the land is managed, for example raising the water table ever so slightly, and reducing the intensity of the management, so nature can return to the landscape."
Mr Juniper added: "Places like Honeygar represent fantastic opportunities to demonstrate how simply allowing nature to regenerate itself can be a powerful solution to the ecological and climate crises.
"I am incredibly excited at its potential."
Honeygar takes the trust's total landholding in the Avalon Marshes to 418 hectares, extending a campaign that began in the 1970s when it bought its first parcel of land there.
The land was purchased by the Esmée Fairbairn Foundation, which provides grants for ecological projects.
The trust said it would repay the foundation through fundraising between now and 2023.
Related Internet Links
The BBC is not responsible for the content of external sites.