The Wellington Monument to reopen following £3.1m restoration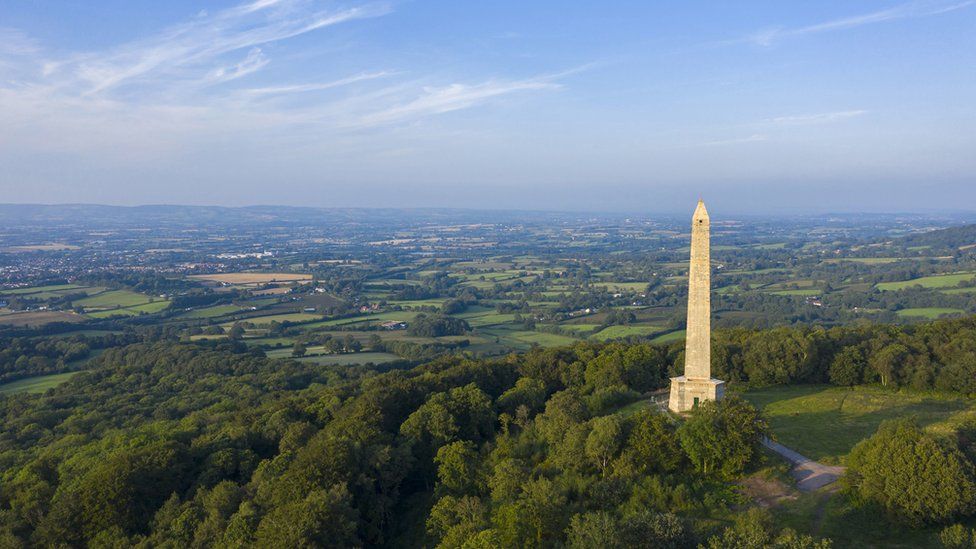 A listed monument seen by millions of people every year is ready to reopen after a £3.1m restoration project.
The Wellington Monument, a memorial to the first Duke of Wellington, is 175ft (53m) tall and can be seen from the M5 motorway.
Repairs to the tallest three-sided obelisk in the world took two years.
It was built near Wellington in Somerset - from which the duke took his name - following his victory at the Battle of Waterloo in 1815.
The National Trust, which owns it, said it thinks the monument could be in a better condition than when it was first completed in the early 19th Century with 1,508 new stones added to it.
The pyramidion - its triangular section at the top - has been "almost completely replaced", and larger stones were used in other parts to prevent water leaking into it.
Helen Sharp, the National Trust's project manager, said the repairs on the Grade II* listed monument were a "huge undertaking" after an appeal was launched in 2018. Work started in October 2019.
She said: "To see it completed is a special day for us and the people of Wellington.
"It is a place where people walk regularly with their dogs, come for family picnics and where they remember personal events - we've heard tales of first kisses and engagements here which make it important in many hearts.
"The local community have really rallied round to help us with the fundraising that will ensure this striking landmark remains a feature of the Somerset landscape."
The monument has been struck by lightning twice and has been owned by the National Trust since 1934.
Visitors used to gain access to the top of it by collecting a key and a candle from a nearby farm before ascending its 232 steps for views of the Blackdown and Quantock Hills and Exmoor.
Related Internet Links
The BBC is not responsible for the content of external sites.