Everything I Do: How Bryan Adams' Robin Hood video was made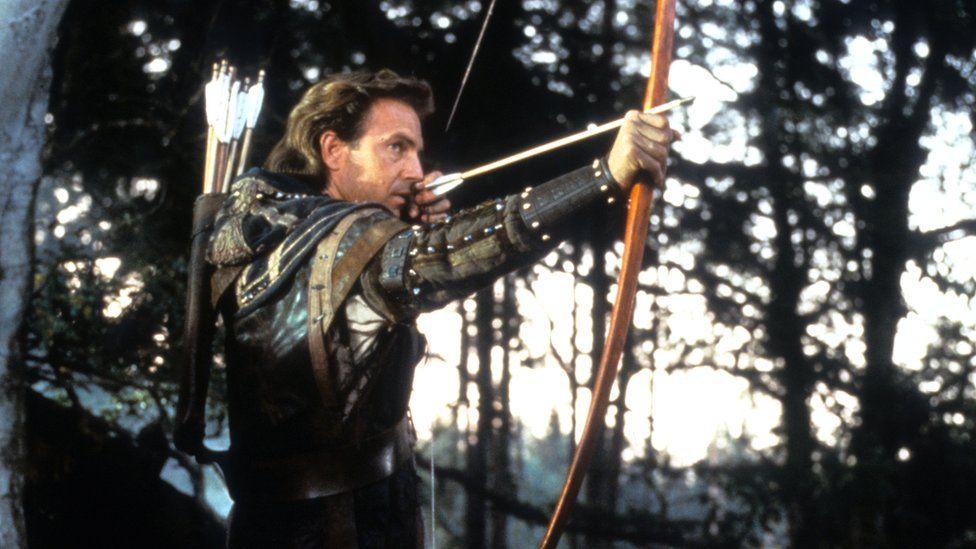 In the spring of 1991 a film crew made their way deep into the English countryside to make a pop video.
The song was Bryan Adams' single (Everything I Do) I Do It For You, written for the soundtrack to the Hollywood film Robin Hood: Prince of Thieves.
This is the story of how the video for this smash hit - itself written in a modest studio on the outskirts of London - came to be filmed in a tiny village in Somerset.
Julien Temple's CV reads like a hall of fame of British music. The film director has worked with the Sex Pistols, David Bowie, Madness, the Rolling Stones, Shane Macgowan and Joe Strummer, as well as creating a documentary about the Glastonbury Festival.
In amongst these projects, one stands out as being a break from the norm - the 1991 video for (Everything I Do) I Do It For You.
So what lured Mr Temple into embracing a pop hit linked to a romantic mainstream film?
"I tend to stay away from the mainstream if I can. I just made a video with the Rolling Stones called Sex Drive, and I got a call saying would I do this Bryan Adams thing," he recalled.
"And I said I would if I could walk to work, from my cottage in the Quantocks where I live, and they said yes."
And so the hunt for a location began, with the main stipulation being that Mr Temple needed to be able to stroll there.
Down in a narrow valley, with banks of trees either side, he found an old silk mill, where poet Samuel Coleridge had once sat to compose a piece.
Mr Temple said the filming, with Adams and his band playing among the trees intercut with scenes from the film, took "an afternoon and an evening" and by the end, the locals had gathered to watch.
"I knew it was going to be popular because as we were doing the playback it was getting dark and the whole village seemed to turn up and listen and then started humming the song," said Mr Temple.
"It was quite an easy song to understand and there was a good mix of ages watching, some old people, some very young, so you knew it had a mass crossover appeal."
The song performed incredibly well, hitting number one even before the film it was composed for - Robin Hood: Prince of Thieves - was in cinemas, and staying there for a record-breaking 16 weeks.
But Mr Temple himself, who remembers Adams as "seeming nice enough for a star" admits he has an uneasy relationship with the song and video.
"It [the song title] was amusing, it was grammatically incorrect wasn't it? I found it a very awkward title," he said.
"Little did we know that it was going to be on Top of the Pops for months.
"I was kind of embarrassed by the length it went on, because it's not my finest hour as a film-maker.
"It really was about walking to work, that's why I did it. I didn't expect it to dominate the pop charts for as long as it did."
Was there a point where he wanted radio stations to stop playing the song?
"Oh yes, very soon! Pretty much after the first time they played it.
"I'm not even aware when the film [Prince of Thieves] comes on TV, I much prefer the Errol Flynn version, back in the 1930s. That's one of the first great technicolour films.
"It's a much better film actually."
The silk mill which was the centrepiece of the video is now crumbling and overgrown, and walkers and drivers could pass it without even noticing it. Plans to develop the site met with resistance from locals.
Mr Temple remembers a "Bryan Adams shrine" being erected in the corner of local pub The Plough Inn, with photos of the singer staying there for months after the filming was done.
But when it came to his own career, he reflects that the success of the song didn't change his life in the same way that it took Adams from well-known musician to global star.
"I think The Quantocks are the star of the video, the most charismatic thing about it really," said Mr Temple.
"It's not 'cream tea land' in the same way that Dartmoor is. I think it's partly because the lanes are so narrow, you can't get camper vans or coaches down them. Which is very nice.
"It [directing the video] was just something I did. Other than causing a few of my friends to laugh, it didn't have much of an impact really on me."
Excitement among local residents
Church warden Sue Ayshford has lived in Holford for 37 years, and remembers the day the video was filmed.
"I remember going down there in the early evening, my son was very keen as he was 15 or 16 at the time, and we stood together watching the filming and then they finished and Bryan Adams came up and spoke to us for a while, I think I had the dog with me at the time," she said.
"Somebody took a photograph of my son with Bryan Adams but what on earth has happened to it now I don't know.
"I know the people at the closest cottage got quite fed up with the song as they heard it an awful lot during filming.
"I do remember that the crew moved a load of bits of tree around to make the scene more 'leafy' than it really was.
"We were all quite excited when the song came out, and then of course it was at number one for such a long time."
But Mrs Ayshford was keen to point out that even though the video may have ensured Holford was seen around the world, the village has other claims to fame.
"When the film Pandaemonium [the story of Wordsworth and Coleridge's early years] was made, I was working at Alfoxton Park and a lot of people from the film stayed there.
"We were invited to the cast and crew premiere in London, which was great.
"There was another video made, for Swing Out Sister, down on the beach.
"So things do happen here, it's not as quiet as you might think."
'We've turned a donkey into a racehorse'
(Everything I Do) I Do It For You entered the official UK singles chart at number eight on 23 June 1991. It went to number two a week later and the following week hit the number one spot. It stayed there for 16 weeks, finally being knocked off the top spot on 27 October by U2 single The Fly.
It sold more than 15 million copies worldwide.
The song was written by Adams and Robert Lange, using music created from the Prince of Thieves soundtrack, composed by Michael Kamen. It was written in a short session at a recording studio in Willesden in North London in March 1991. "We were just monkeying around, trying to make something happen. The song wrote itself." Adams recalled.
Although the song was a huge success, there was some friction at the start, as Kamen was unhappy that Adams and Lange had added extra music of their own to the film score to make the track. Adams told a BBC Radio 2 documentary that in one meeting he told Kamen: "Michael, we've taken this donkey and turned it into a racehorse".
After the song had proved a huge hit, Adams said he called Kamen and told him to go outside, where Adams had paid for a donkey in a racing livery to be tied to Kamen's car. He said Kamen saw the funny side and they became great friends and worked on other films.
When the film was released, Adams took his girlfriend to see it and was disappointed to find his song was relegated to the end of the credits "by which time the cleaners had come in and were clearing away the popcorn".
At one point Adams' record label discussed stopping pressing copies, as they had another of his singles ready to release, but decided not to.
Several acts were denied a possible number one during the record-breaking run, including Right Said Fred whose song 'I'm Too Sexy' was stuck at number two for six weeks.
Related Internet Links
The BBC is not responsible for the content of external sites.