Somerset detectorist finds rare early-medieval brooch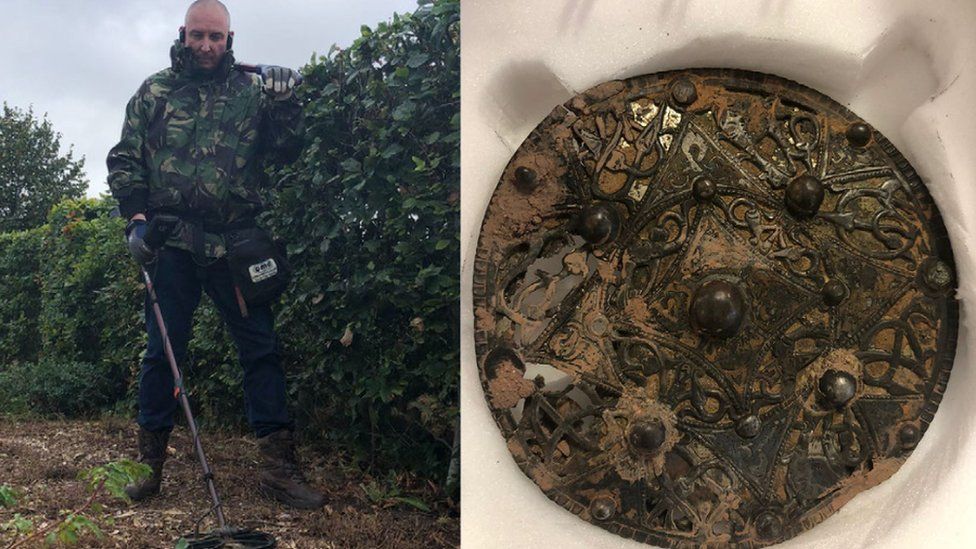 A metal detectorist who found a rare early-medieval silver brooch has said it was his most "incredible" find ever.
The Trewhiddle-style brooch found on farmland at Cheddar in Somerset features detailed interlace decorations with animals thought to be peacocks.
Detectorist Iain Sansome said it was "incredible" to think the treasure used as a symbol of wealth and high status was last held 1,000 years ago.
Somerset Council hopes to keep it in the county once it has been valued.
Mr Sansome added in all of his years metal detecting this find was "in a different league".
"When I first saw the brooch I wasn't exactly sure what it was but I knew it was something special," he said.
"The fact that the last person to handle it was probably someone of extreme importance and high status over 1,000 years ago is just incredible."
The South West Heritage Trust conducted a follow-up investigation at the find site but no further significant discoveries were made.
Dr Maria Kneafsey from the Portable Antiquities Scheme said early medieval examples of the brooches were "rare".
"The fact that no further significant objects were found suggests that the brooch was lost or discarded into water, rather than deliberately buried," she said.
The disc brooch dates back to between 800 and 900AD was declared as treasure at an inquest held at Taunton Coroner's Court in August.