Anger over Jacob Rees-Mogg Christmas party joke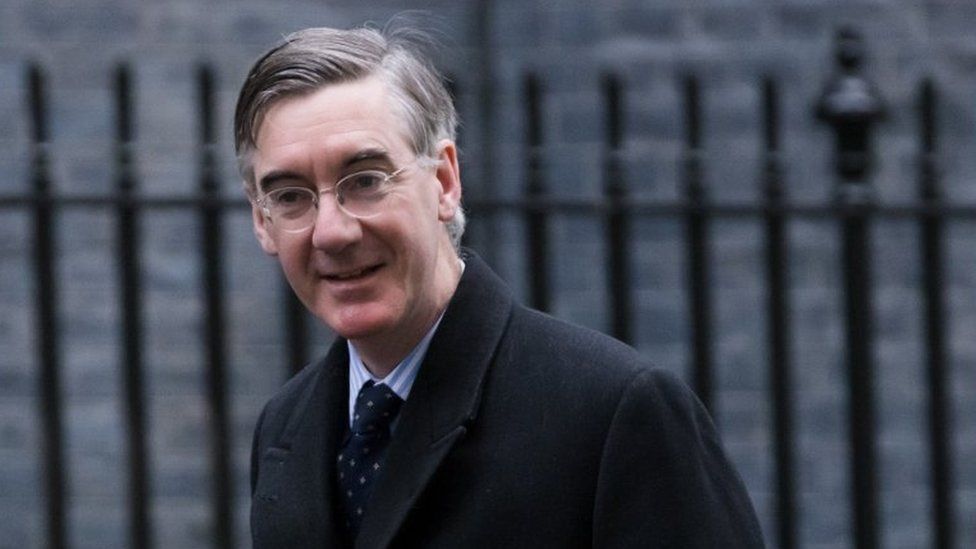 Leader of the House of Commons Jacob Rees-Mogg has been criticised after a video appeared to show him joking about last year's Christmas Covid lockdown restrictions.
The MP for North East Somerset joked to a Christmas party on Monday the event was "not going to be investigated by the police in a year's time".
Leader of Bath and North East Somerset Council Kevin Guy accused him of "laughing in the face of residents".
Mr Rees-Mogg defended his remarks.
The Conservative MP told attendees of this year's Christmas party at the Institute of Economic Affairs in London: "I see we're all here obeying regulations, aren't we?
"And this party is not going to be investigated by the police in a year's time.
"You are all very carefully socially distanced - we have moved, I am pleased to tell you, back to the imperial system: I notice you are all two inches away from each other which is, as I understand it, what regulations require."
Lib Dem councillor Mr Guy said the MP was "laughing in the face of residents" who had "cancelled their plans, stayed inside, and stayed alone" last year, while the government allegedly "flouted its own rules". 
"Jacob Rees-Mogg must answer to his constituents," he continued.
"I have had countless residents get in touch with me and my colleagues over the past two years desperate for help. Many spent last Christmas alone. Many others couldn't say goodbye to their loved ones as they lay in hospital dying.
"Jacob Rees-Mogg is laughing in the face of residents."
The national Labour party wants Mr Rees-Mogg to apologise.
On Thursday, the MP said he had been commenting on "how nice it was to be free of restrictions so that we can have parties this year".
"That was what I was being pleased about, as opposed, in comparison to last year. And this has got better because of what the government has done."
The gathering occurred on 18 December last year when London was under strict Covid restrictions.
An inquiry is under way into what happened at the party, and two other Downing Street gatherings in December 2020, and who attended.
Related Internet Links
The BBC is not responsible for the content of external sites.